What to Wear – Senior Session – Plano Senior Photographer
Shooting senior sessions is always so much fun. It's such an important time in your life to document; as you finish a chapter of your life and move onto the next one. I love getting to know the personalities of the seniors that I've been lucky enough to photograph. Since you're (or your parents!) investing in a photography session all about you; you should make the most of it. Choose multiple outfits that represent your personality and style from head to toe. I encourage you to not just think about the clothing; but to also think about all the accessories as well as makeup and hair. Hiring a professional makeup artist/hair stylist can add the perfect finishing touches to your look.
Don't be afraid to have fun with colors, pattern, texture and shine. And definitely do not forget the fabulous shoes! Adding cool visual interest to your outfits will really make your pictures pop and stand apart from the crowd. You don't have to spend a fortune to look great. Be sure to check out stores like Target, Forever 21, Old Navy for fun and affordable pieces.
Here are a few looks I put together to help get you inspired for your senior session. Be sure to check out the links below if you're interested in adding any of them to your wardrobe!
Retro Inspired: Blouse | Tank | Skirt | Necklace | Hair Flower | Shoes
Casual Chic:: Tee Shirt | Pants | Shoes | Bracelet
On Trend: Dress | Jacket | Necklace | Boots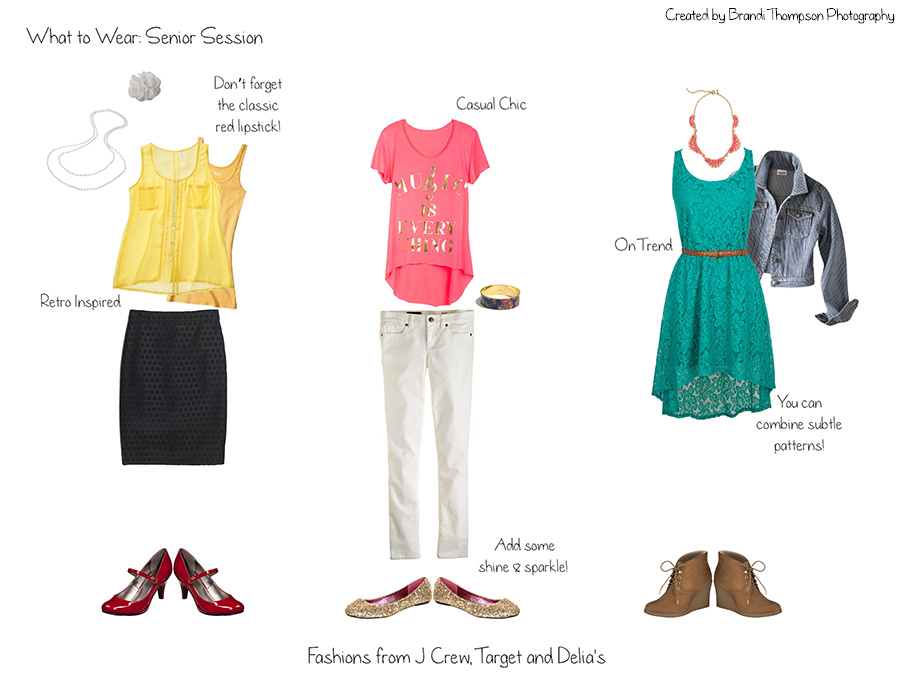 If you're ready to shoot your Plano senior session, be sure to drop me a line to set something up. I love creating custom sessions that are a fit for each client's personality!