Helpful Hints for a GREAT Maternity Session!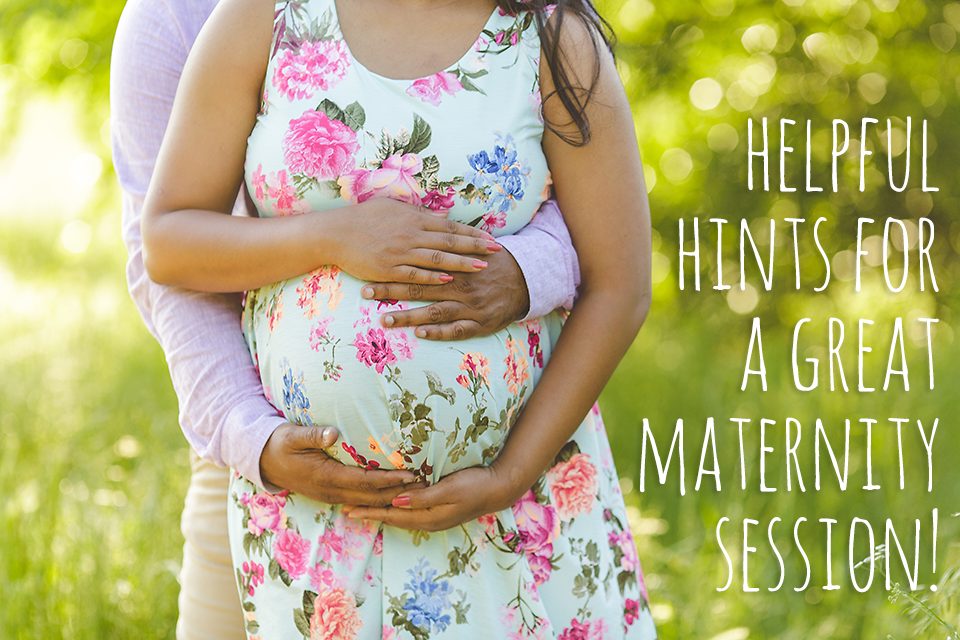 Being pregnant can be amazing.. even though sometimes, we often don't feel that way when we're hitting the home stretch. As a photographer, I love to make expectant mamas feel good about themselves. Maternity photography is a great way to capture that unique time that you and your baby share, and I want to help you have the best experience possible. Here are some of my top tips to a fun, relaxing and successful maternity photography session!
Feel Good in What You Wear:
Don't wait until the last couple of days to pick your outfit(s) for your maternity session. Take your time to find a look, or two, that really shows off everything you love about being pregnant. Talk to your maternity photographer for their tips on picking the right outfit for your style and personality. You might love the long, flowing dresses; or you may prefer a more casual look. There isn't a wrong answer, but try and avoid making a rushed decision last minute.
Splurge a Little:
Consider a professional makeup artist for your session. A little pampering always goes a long way in helping you feel relaxed. If you are doing your own makeup, try a test application prior to your session to make sure you love the look you're planning. If you are scheduling any kind of big change to your hair before the session, it's suggested you give it at least a week beforehand to let it grow on you. Don't forget about your nails as well (neutral tones work best), and that includes your partner!
Make it a Family Affair:
Family maternity sessions can be a lot of fun! You are celebrating both, your current family, and your upcoming addition. If you have a toddler, and you're concerned about their stamina, consider having a family member or trusted friend take them home halfway through your session. If your furry family members are well behaved, consider including them as well.
Stay Comfortable:
If you plan on wearing high heeled shoes in your photos, please make sure you bring a pair of flat shoes along with you for walking any distances. Many photography locations require a bit of walking back and forth and you'll be more comfortable in flat shoes for these periods. For cooler weather maternity sessions, don't forget your jacket for in between images.

Don't Get Hangry:
When we get hungry, our mood and energy level both drop. It's very important to make sure you at least eat a good sized snack prior to your session. Especially if you're expecting! You could also bring an easy snack along, in case midsession hunger strikes. Please, also bring a bottle of water. This is especially important in the summer months when it's very warm out.
Get There On Time:
Make sure you know where you're going before the day of your session, and allow for a few extra minutes of travel time just in case you run into any traffic. This helps keep your stress down!
Keep Communication Open:
Please, let your photographer know about any desired props, special images or concerns you have about your session. Even the best photographer does better when they have time to plan.
I hope these tips help you feel more confident in approaching your upcoming maternity session! If you're local to the Plano area, I'd love to talk to you about setting up a maternity session that celebrates your upcoming arrival.