Country Cowgirl Inspired Senior Session What to Wear – Plano Senior Photographer
Maybe it's the tall grass or the big green trees. Something about summer makes me think country fields and today I am sharing with you a country cowgirl inspired senior what to wear board. This is a fun, girly board with cowgirl touches that keep it fashionable and on trend without being over the top. Of course, we've got denim and a cowboy hat but the pops of orange-red keep it fresh and the stylish boots keep it modern. If you're a country girl at heart (Hello, Texas!) these outfits would be perfect for your senior session.
Ready to shop? Here are your links:
Look One: Denim Shirt | White Lace Skirt | Tie Belt | Red Flats
Look Two: White Embroidered Shirt | Denim Shorts | Cowboy Hat | Brown Sandals | Red Bracelets
Look Three: Red Dress | Lace Boots | Braided Headband | Silver Bracelet
Look Four: Lace Dress | Hair Flower | Earrings | Bracelet | Brown Boots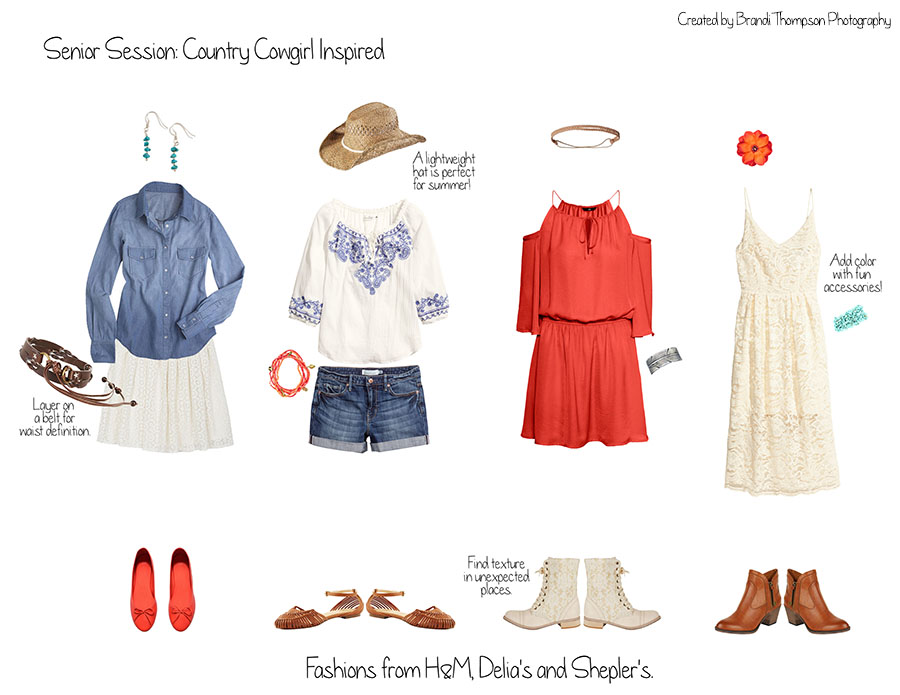 If you're a 2015 senior in Plano or Frisco – email me today to set up your senior photo session!