What to Wear – June 2012 – Ladies Only!
Today's post is all about the ladies. Outside of special events and milestones, most people don't get their photo taken.. but if it's been years since you've had a professional portrait you should consider it…just because! I've created some outfits as inspiration for a session. These outfits will work on ladies of almost any size and any age.
I wanted to talk a little about each outfit so you could see why I chose what I did.
1. This super simple dress is casual but flattering. The belted waist adds definition and the 3/4 sleeves help add confidence for anyone who might feel less secure about their upper arms. The length is just right for showing off your legs without showing off too much. Bright jewelry adds color and textured sandals adds visual interest as well.
2. A super casual jeans and pretty tee shirt get color and structure with a bold jacket and colored flats. Shoes don't have to have high heels to be fabulous! With such a simple outfit, feel free to add accessories with lots of detail like the earrings I have paired with this outfit.
3. This classic shape works on almost everyone. The nipped in waist defines curves and the v-neck keeps your neck nice and long. Brightly colored shoes pop against the neutral tone of the outfit, but because the blouse is patterned I kept the jewelry more subtle. Gold tones are very on trend right now but you could always go with a silver or white gold if that's more your style.
4. This blousy tank has the draping that is on trend but still keeps a fairly form fitting shape to keep it flattering. The ribbon detail on the neck of the cardigan combined with the bold pattern of the tank take away any need for a necklace. Blue and green accessories tie the whole thing together. I did use skinny trousers with this outfit, but regular straight legged trousers would look just as nice.
Remember to think head to toe when planning your session. Hair, makeup, nails and toenails if you're wearing open toed shoes. It's a great reason to get a little pampering! You're investing in photography so don't forget to invest in yourself as well so that you can be your absolute best in the photos.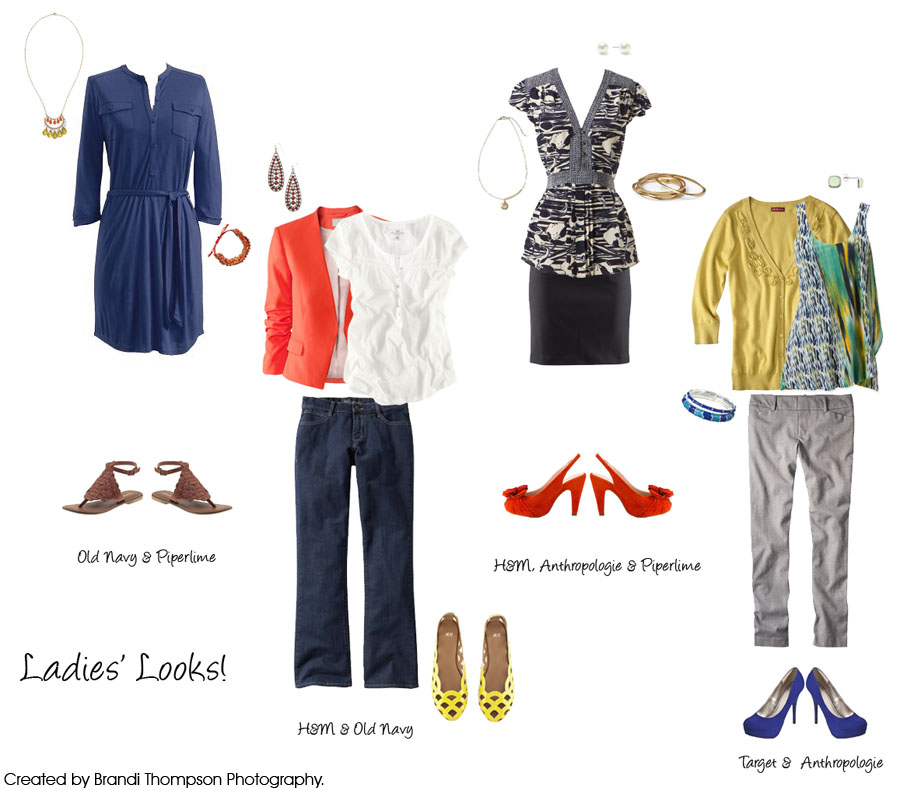 As always, I am happy to offer any advice and help I can so if you've got questions, feel free to ask!