2016 Fall Mini Sessions – Plano McKinney Mini Sessions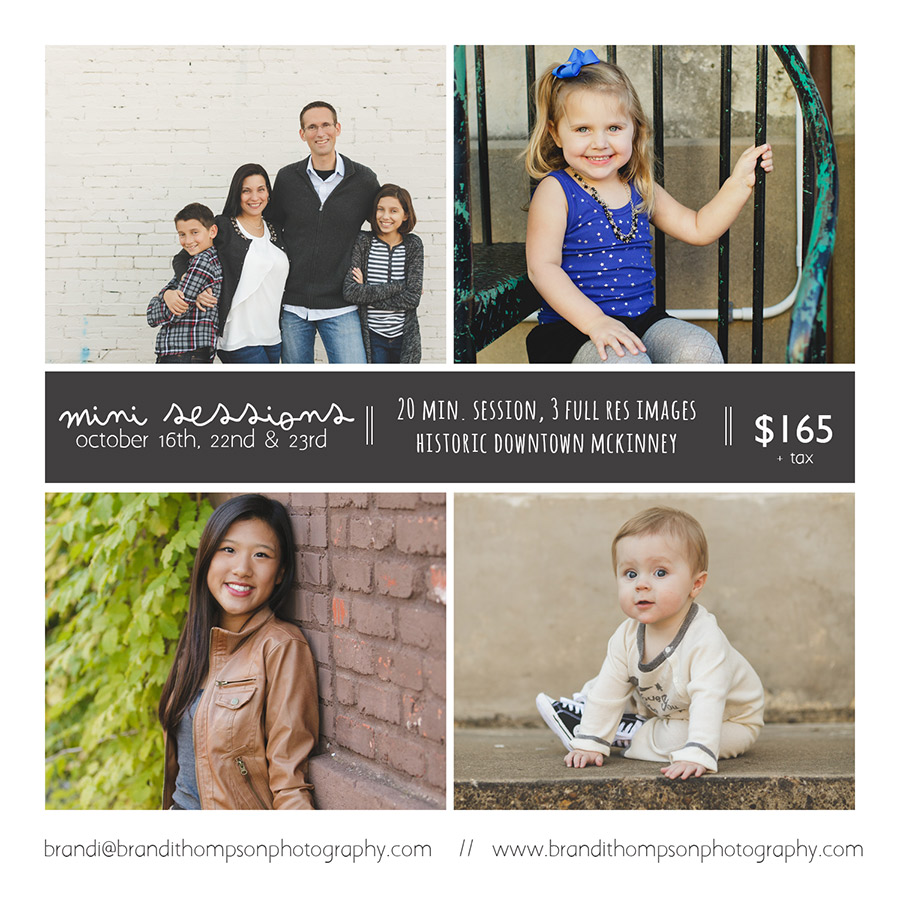 Fall is right around the corner, and that means it's time to book your fall mini session. This year, by popular demand, I will be holding my minis in an urban location. Downtown McKinney has amazing variety, AND has some beautiful parks, if you prefer a more natural look to your minis. There's a little something for everybody. Keep on reading for more information on the locations!
Dates: Saturday, October 15 – Sunday, October 16th – Saturday, October 22nd – Sunday, October 23rd
Where: Historic Downtown McKinney
What: A 20 minute session and your choice of three full res files with print release.
How Much: $165 + tax
Please note, because of the high demand for this year's mini sessions, there can be only one spot per client. Thank you!
Because this location is so large and has so much variety, I have divided it into five areas. You are welcome to choose your favorite spot, and that's where we will shoot. Be sure to check out the example images to give you an idea of what each area looks like. Please remember there is more variety than what's shown here, and some spots may not be available due to construction, traffic or other reasons.
Location A: Large white brick wall, blue garage door, bright yellow wall with accent colors.
Location B: Alley with large exposed brick areas, door steps and doorways with various textures and ivy covered wall.
Location C: Light colored cracked wall, small metal staircase, weathered blue doors (elevated), narrow circular staircase.
Location D: Small park with trees, treed street with wrought iron fence, tin walls.
Location E: Alley with graffiti and brick exposed areas, white garage doors, larger park with trees and fountain.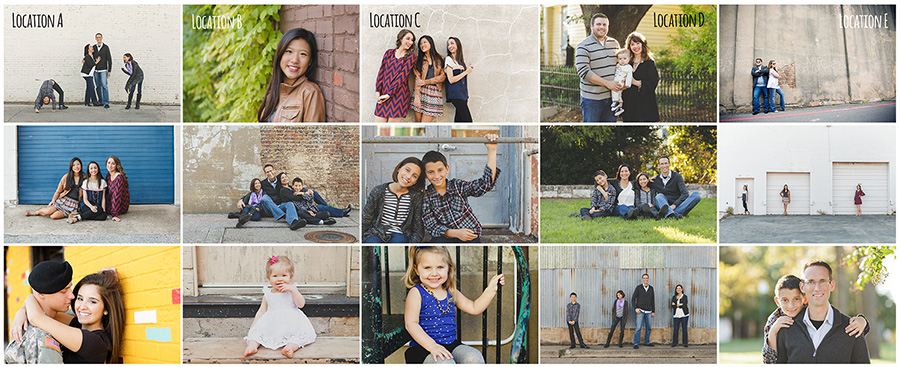 Important Stuff:
1) You MUST pay your session fee within 24 hours of selecting your spot, or that spot will open back up. Session fee is due in full to secure the spot. The session fee is non-refundable, but may be transferred to a boutique session if you are unable to make the mini session date. No calls/no-shows are subject to forfeit.
2) Mini sessions are for immediate family groups only.
3) Well behaved dogs are welcome.
4) Mini session galleries are open for one week. If you have not selected your photos at that time, there is a $25 reload fee to re-open your gallery. Additional images and products will be available for purchase if you desire.
5) Your selected digital files will be delivered via Dropbox. Please allow up to 4 weeks for any printed items purchased.
If you're ready to book your mini session, click HERE.
I look forward to seeing you and your family in October!