Zaida's Penguin & Pajamas First Birthday Party
I am pretty sure the last time I worked this hard for an event was on our wedding. I first got the idea for Zaida's party when she was just six months old. I planned, I pinned and I DIY'd. I am pretty happy overall with how it turned out; even if I can see the things I wish would have been done differently. I'll share details with the pictures.. so let's get started!
(Images are a mix of my own and Ben Q Photography)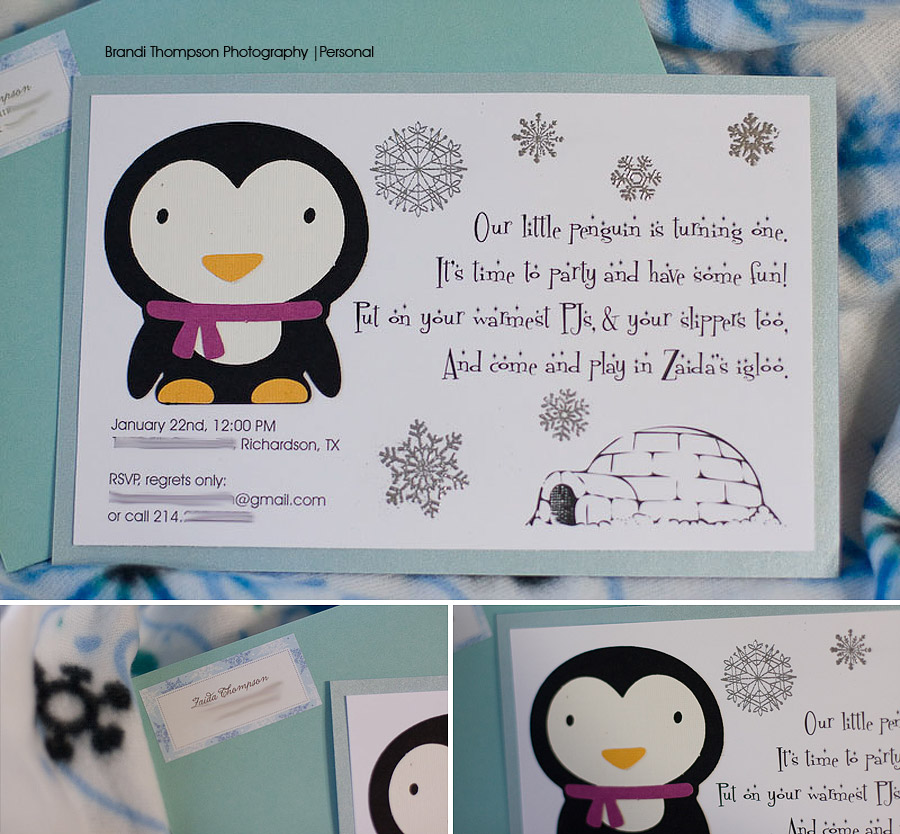 These are my hours-spent DIY invites. I came up with the phrase and design. I purchased the penguins from Etsy (the shop seems to be gone!) and I used
Martha Stewart
stamps to do the embossing. Yes, it took a long time. The custom address labels are from the addictive
Tiny Prints
.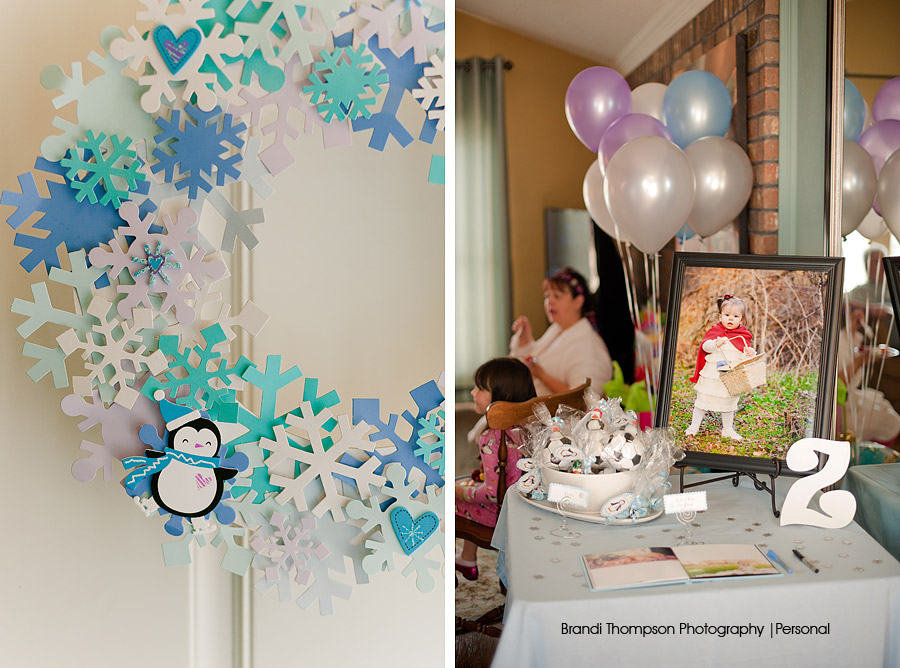 I made the front door wreath using a
a kit
and stickers from Target. I found the awesome frame easel at Hobby Lobby (aka, Heaven!) as well as the letter Z.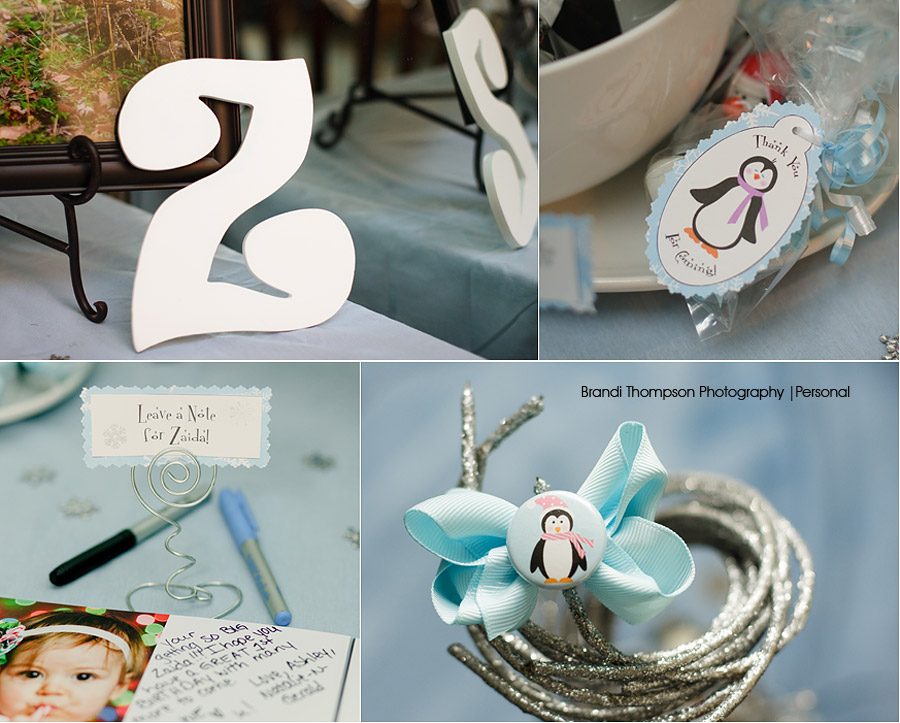 I designed, printed, cut and assembled the favor tags. The girls received
rubber penguins
and bows with penguin buttons on them, assembled by me. The penguin button fronts are from
Etsy
. The boys received small soccer balls and rubber penguins. I designed a photo guestbook with photos of Zaida spanning her first year of life, for people to sign and leave notes!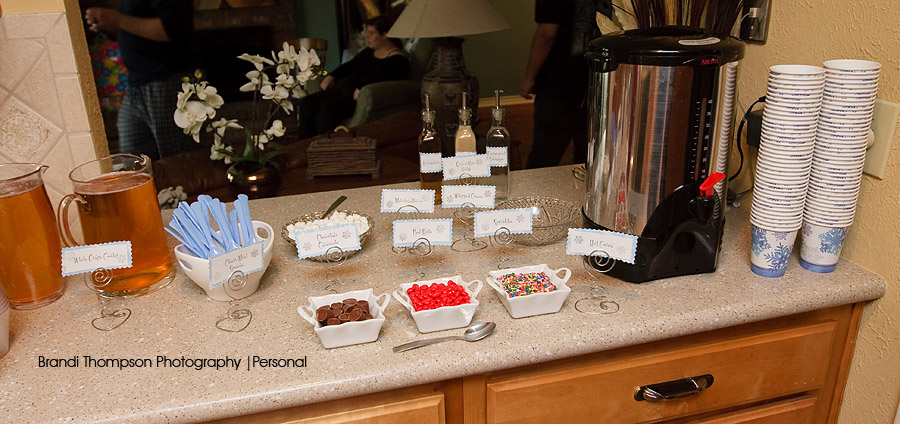 One of the things I had was a hot chocolate bar! It included whipped cream (oops, not in the photo!), marshmallows, rolos, red hots, sprinkles, DIY chocolate-mint spoons and a few adult additions as well…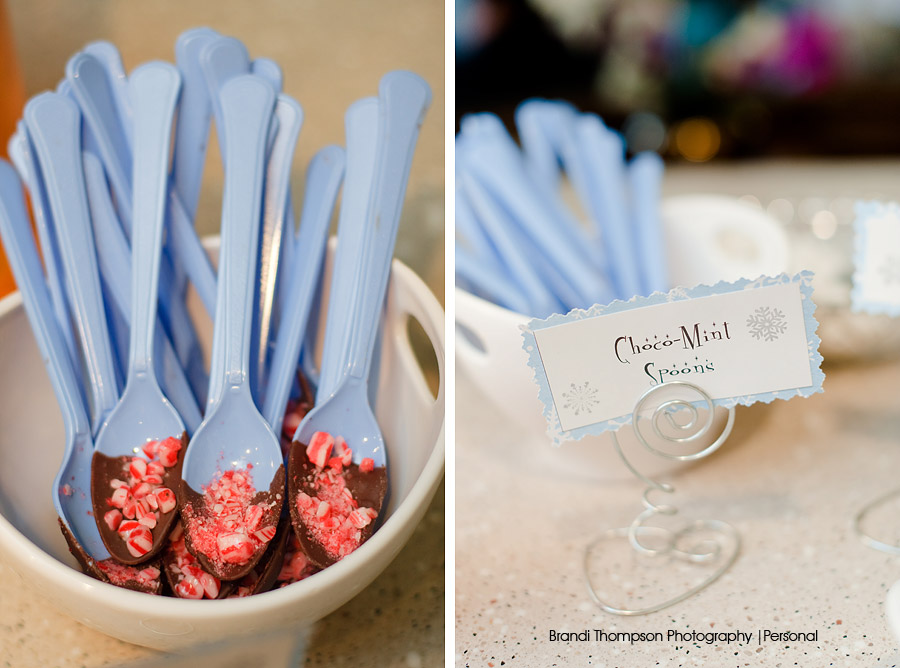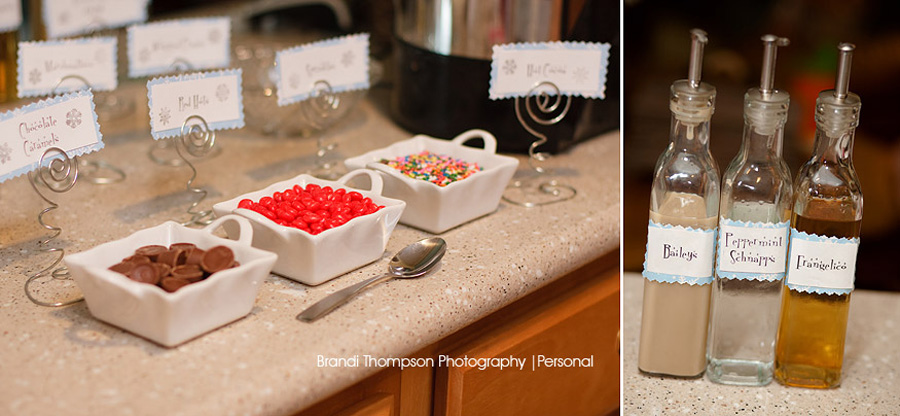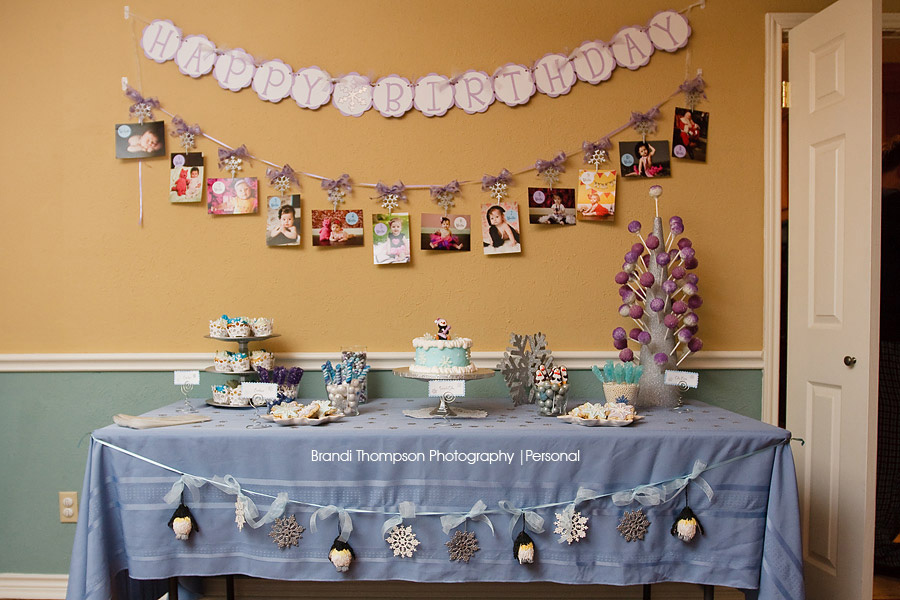 The thing I was most proud of was the dessert table. I dreamed of this table. I planned. I drew silly little multi-layered images in photoshop to plan the layout. (I'm not even kidding about that part.) I DIY'd the cake stand, cupcake stand and cake pop 'tree'. I also made the photo banner, and the penguin & snowflake banner, as well as the cookies on the table. I fretted, I obsessed, and it was all worth it.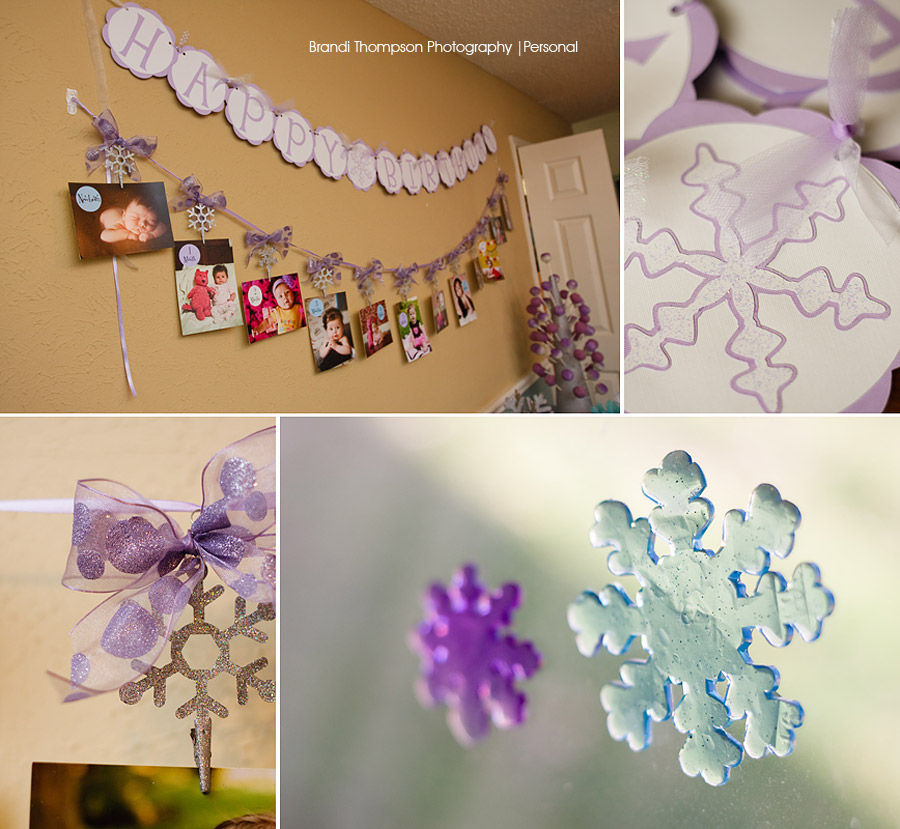 Some detail close ups of the banners and other decorations. The Happy Birthday banner came from
Etsy
, and as I said, I DIY'd the photo banner. I ordered 5×7's from my professional print lab, mounted them on cardstock, and used
snowflake clips
and ribbon to make up the banner. I got all my ribbon 50% off at Hobby Lobby (did I mention, heaven?). I also had snowflake clings as well as "Let it Snow" on the french doors. Sorry, no photo! You're just going to have to imagine the cuteness.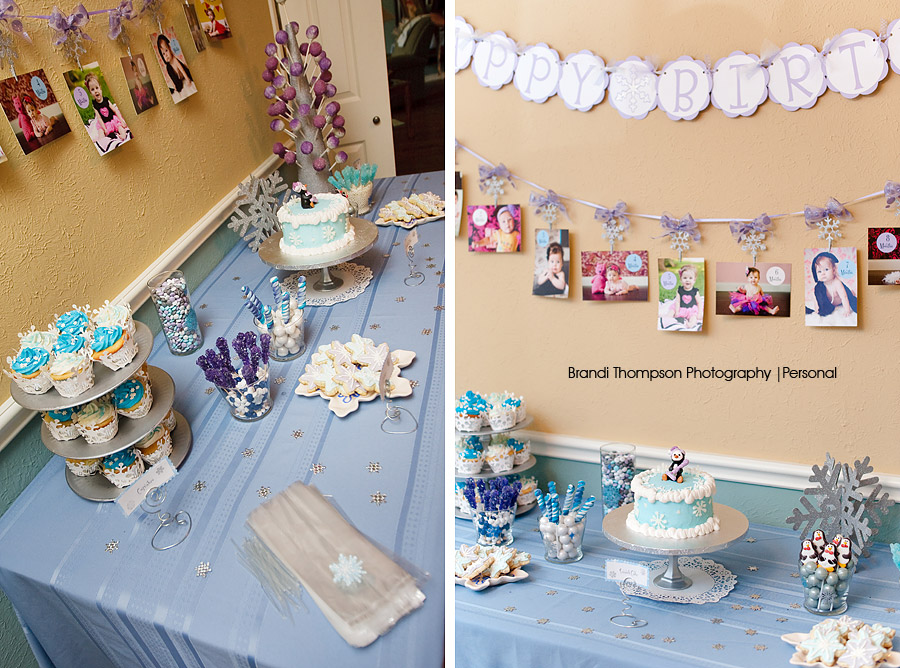 Yay, dessert table! The cupcakes and smash cakes were from some of my talented friends, and the cake pops and cookies were by me (with the help of some friends and wine). I purchased the candy from a variety of places.
Economy Candy
,
Oriental Trading
and I got the M&M's from Party City. It's actually cheaper to buy them at Party City than it is to buy them online, but you will have less color selection.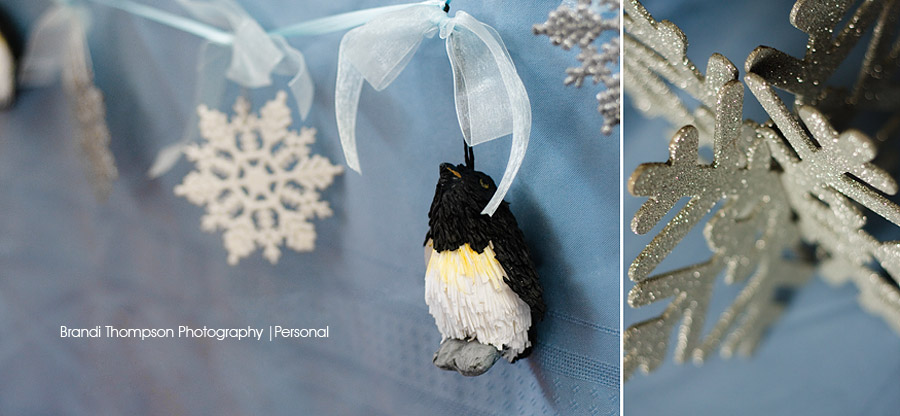 Just some close ups! I got the penguins for my banner from World Market (on clearance!) and I got the sparkly snowflake from the Target dollar spot before Christmas. Yes, I like to be fabulous, but I also like to be thrifty. 🙂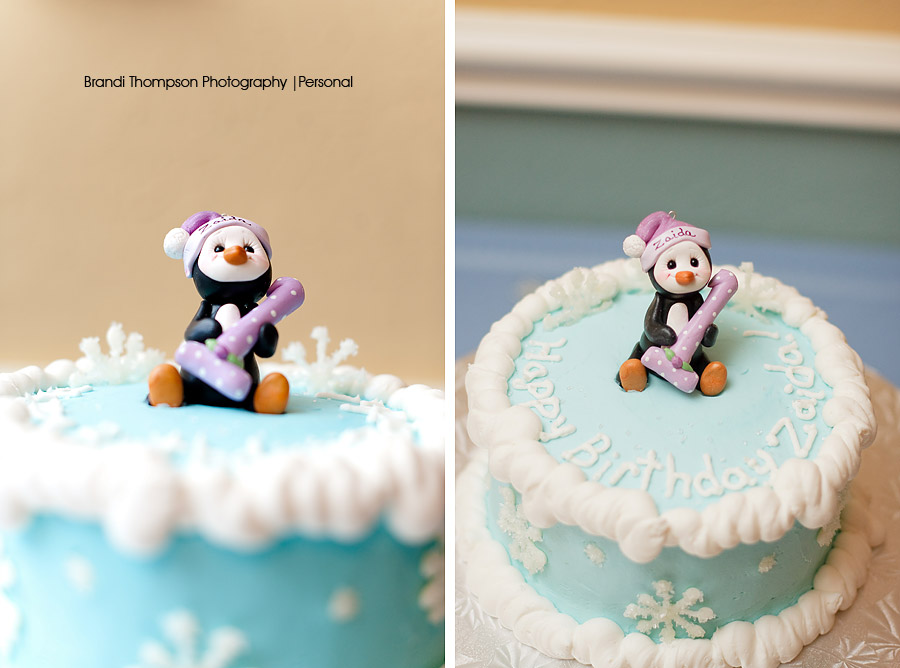 I got the amazing, amazing, AMAZING cake topper that I absolutely adore from
Etsy
. Did I mention I freaking love this thing? It is completely hand made!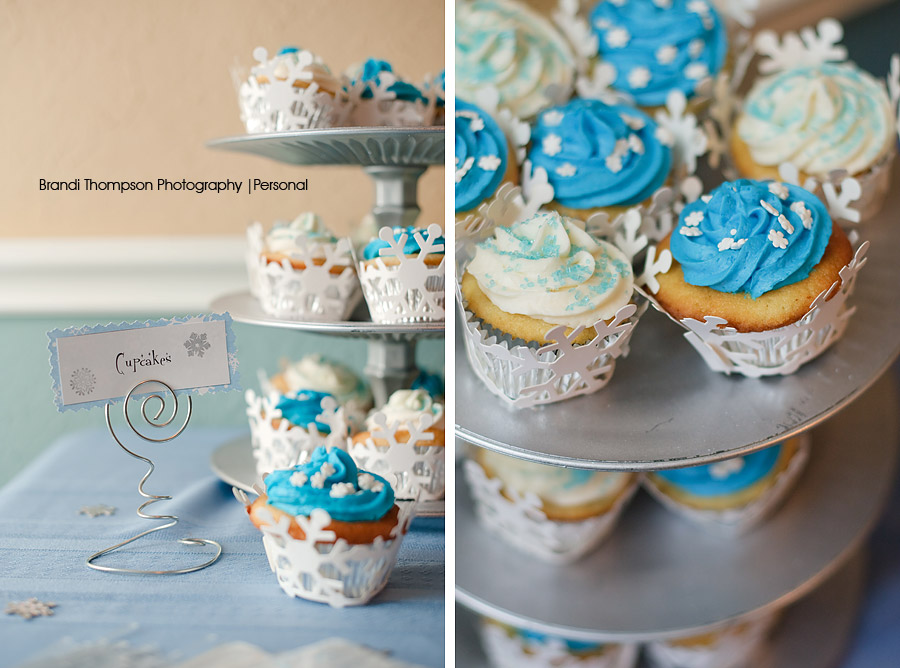 Cupcake wrappers are from Oriental Trading! You can find the DIY tutorial I followed for my cake stands
here!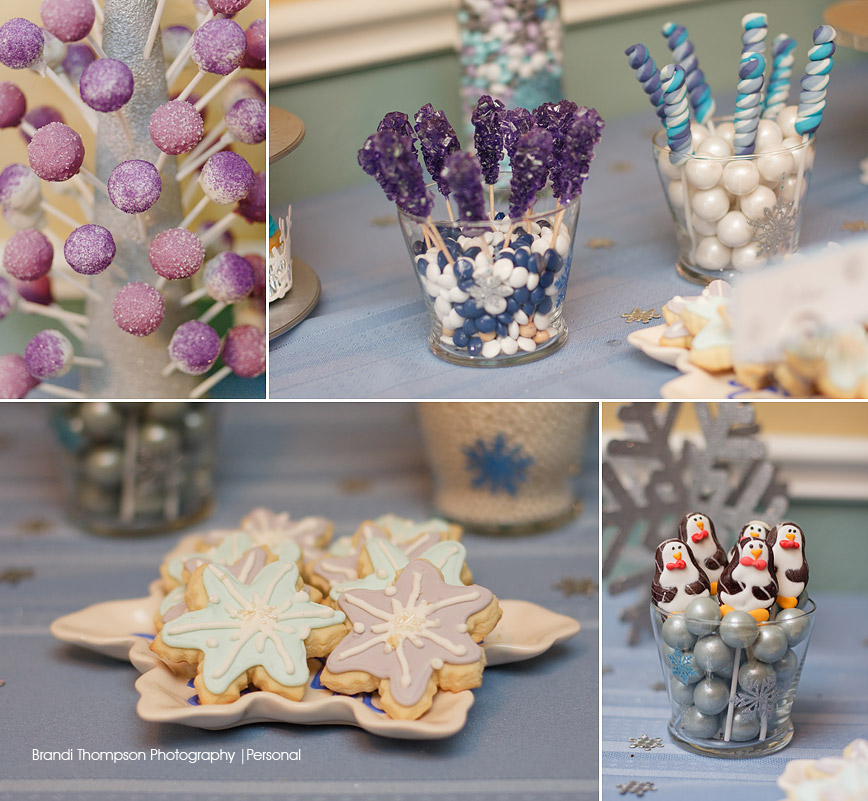 I was very happy with how the cake pops turned out, even though it was my first time making them. The cookies I was slightly less pleased with (again, first time trying this type of cookie decorating) but they tasted delicious, and hey that's what counts, right? For my candy jars, I got them at the dollar store (yup) and used some pretty stickers from Hobby Lobby to decorate them. The snowflake plates also came from Oriental Trading.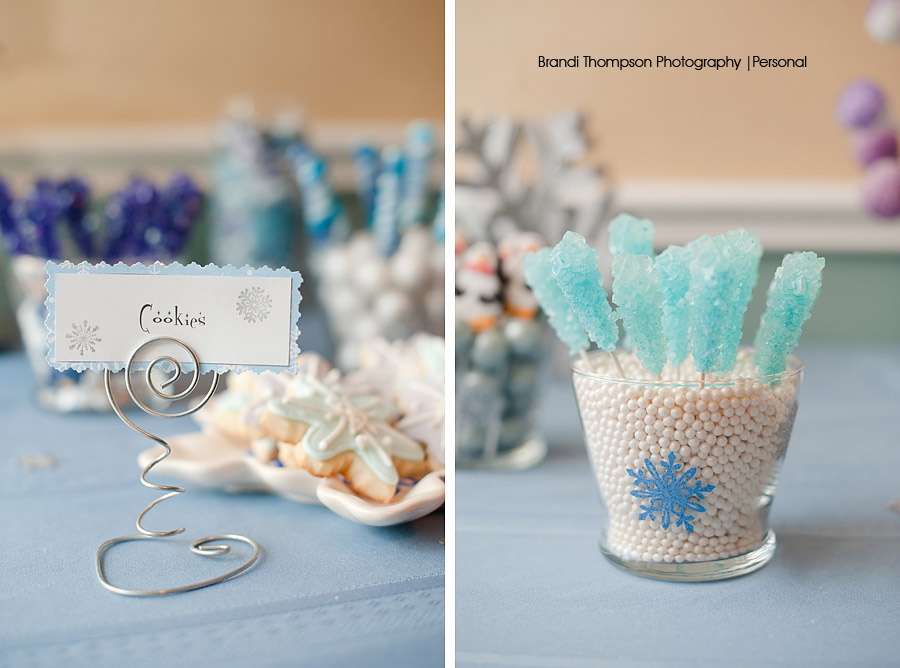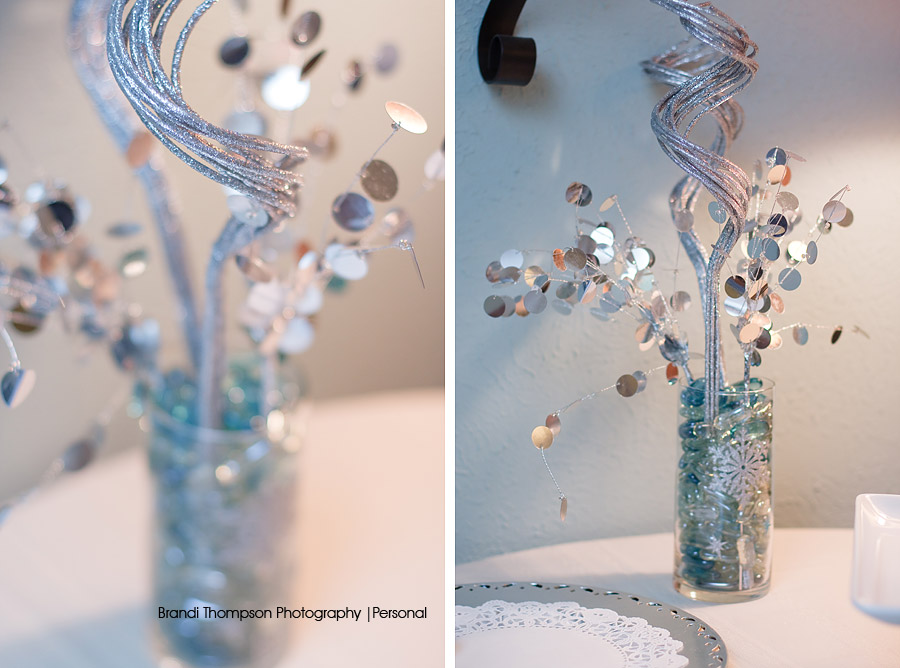 gThis was my regular food table centerpiece. The silver sparkly stuff is from Target around Christmas time. The rest (except the snowflake stickers) is from the dollar store.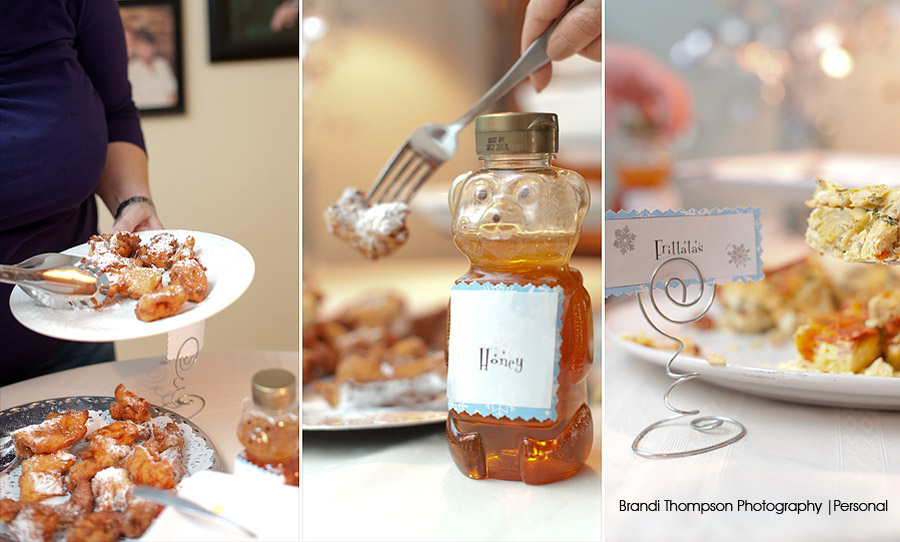 Since this was a Penguins & Pajamas theme, we decided to do breakfast foods. We served begniets, frittatas and some fresh fruit (not pictured). I even made a custom label for the honey at the last moment. Obsessed, I tell ya.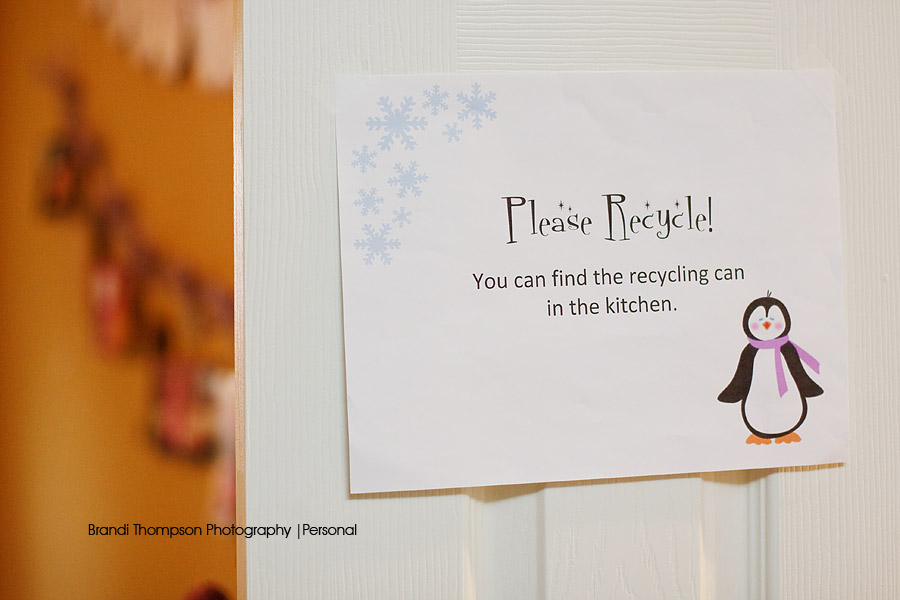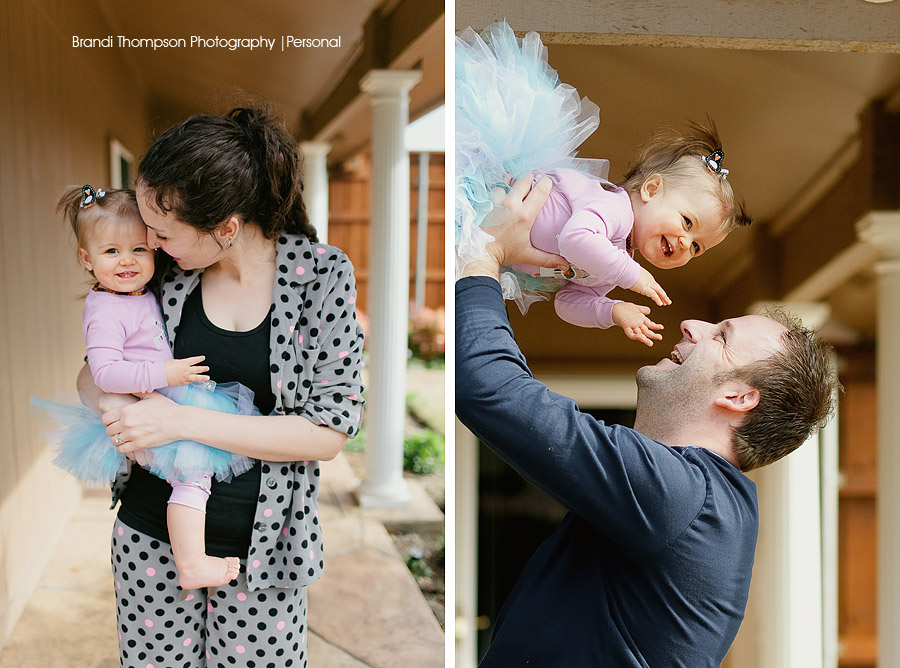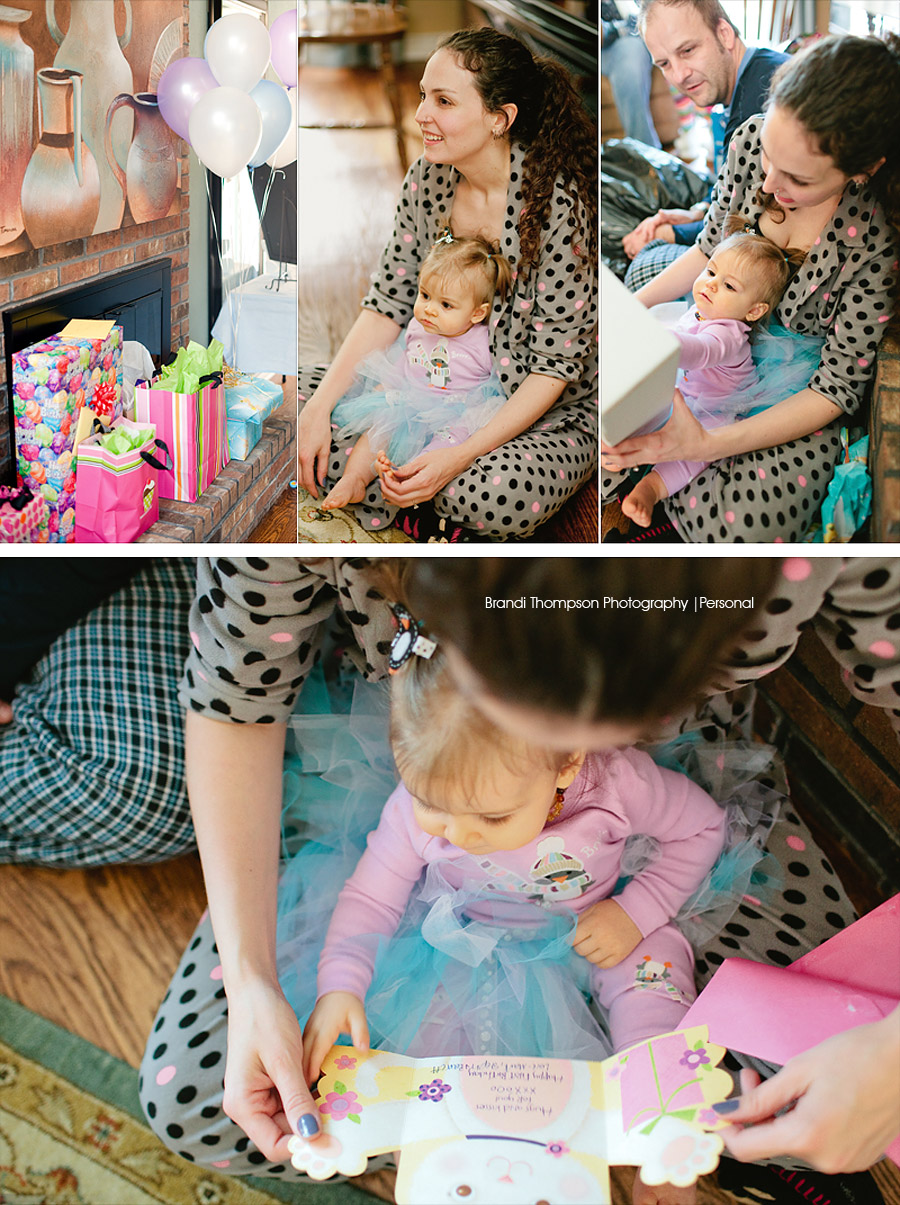 After we ate, it was time for presents!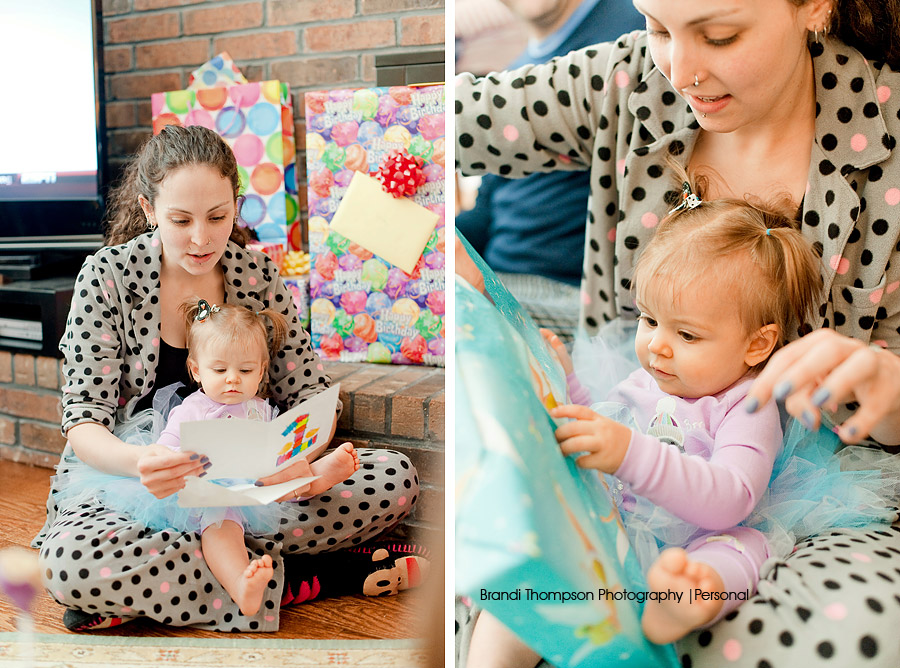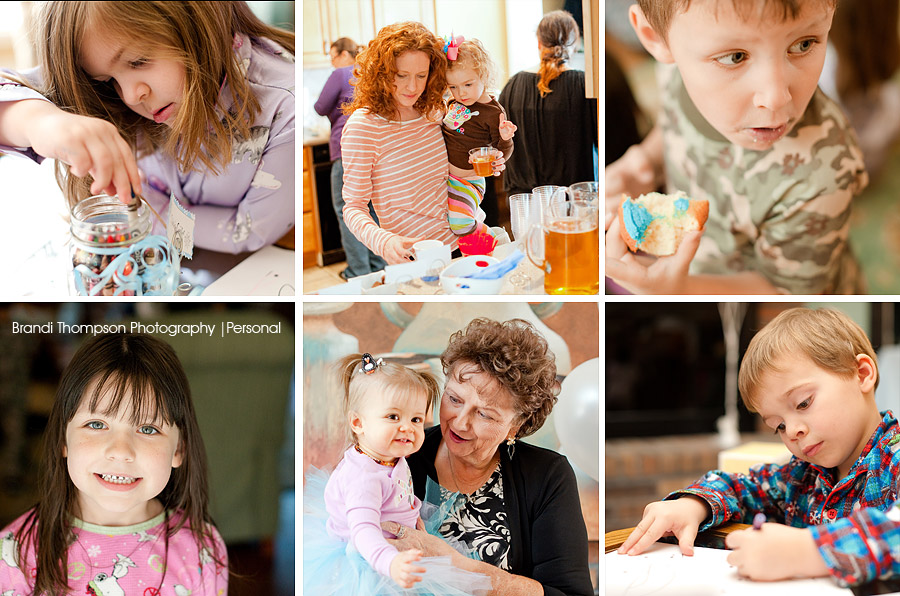 Some of our awesome guests. We were so glad to see every person that came.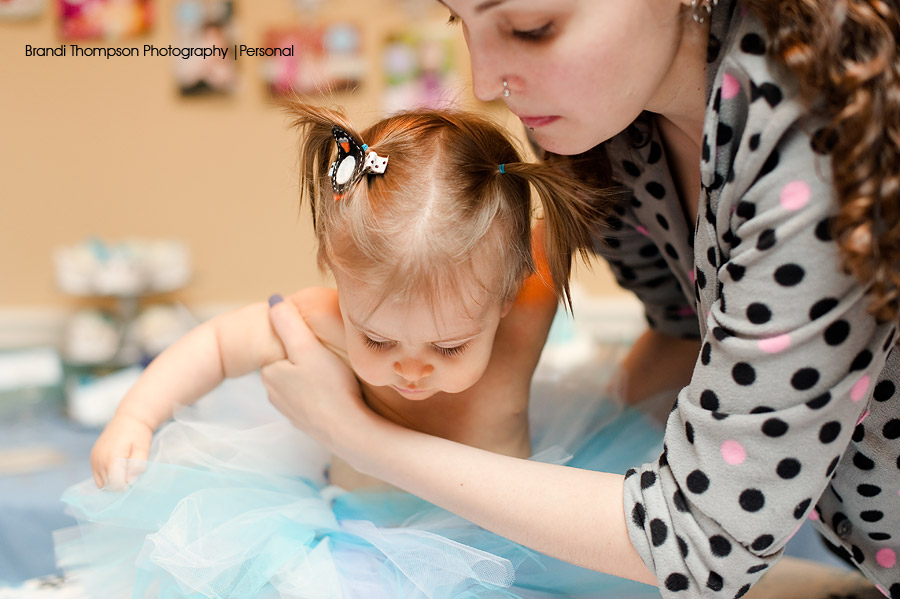 After presents it was time for the fun part; the cake smash!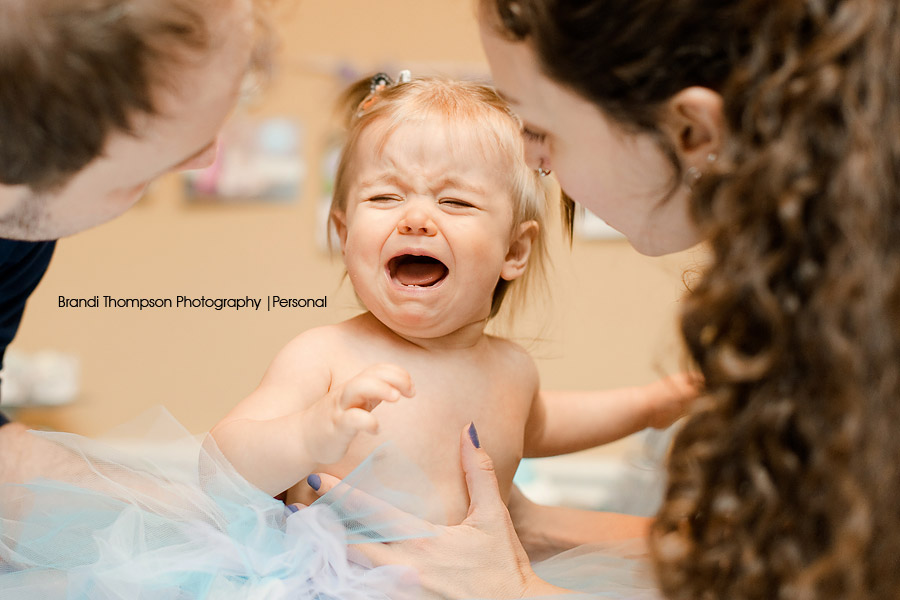 Zaida disagreed with that idea at first.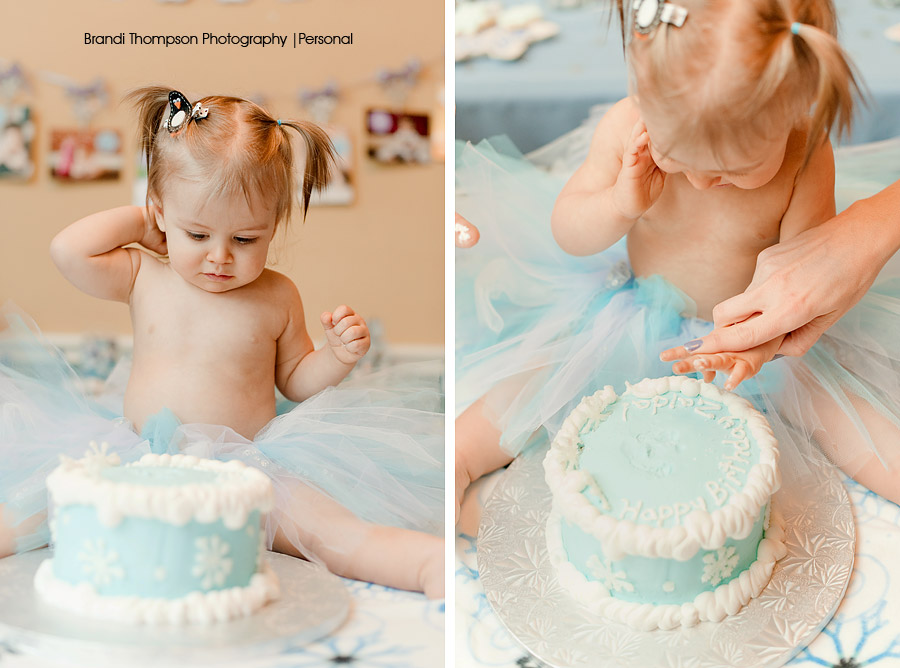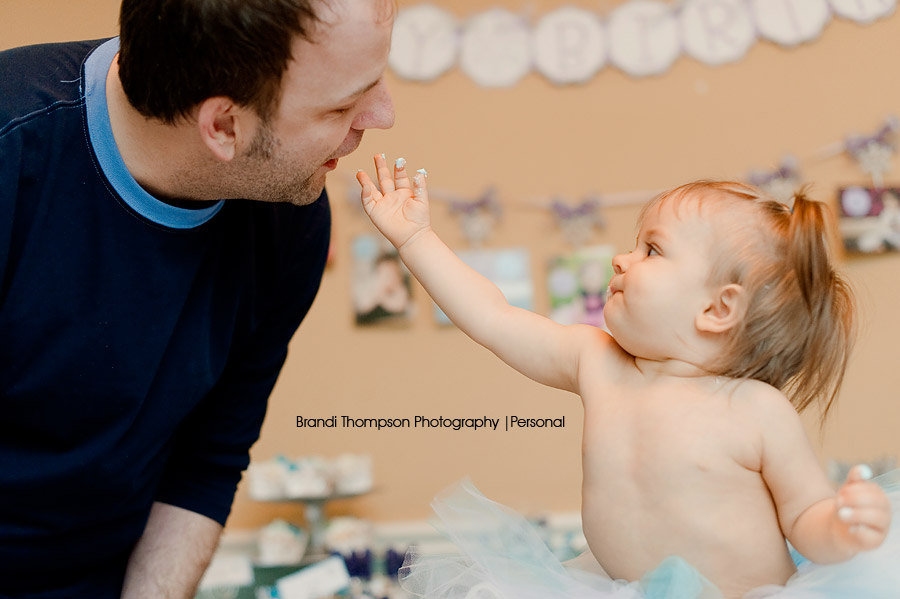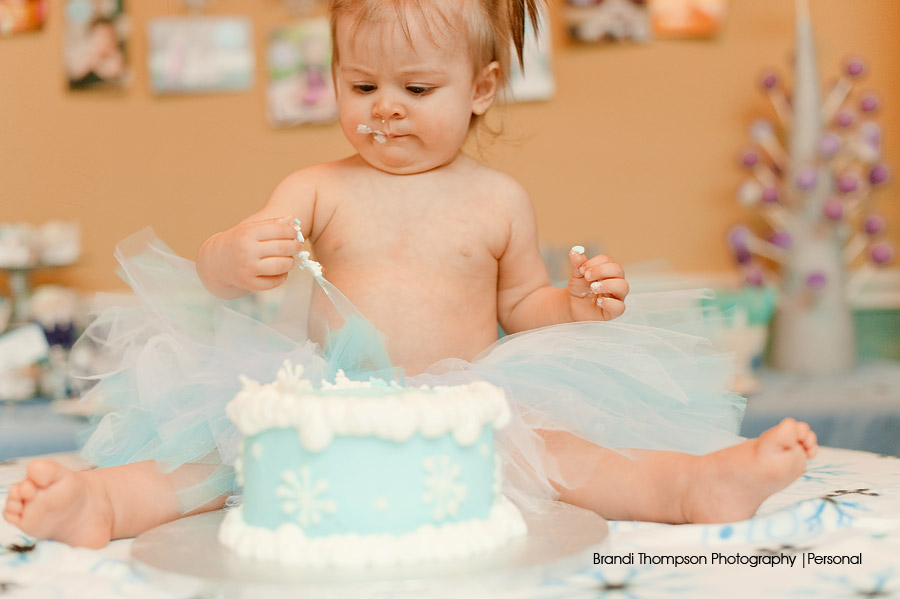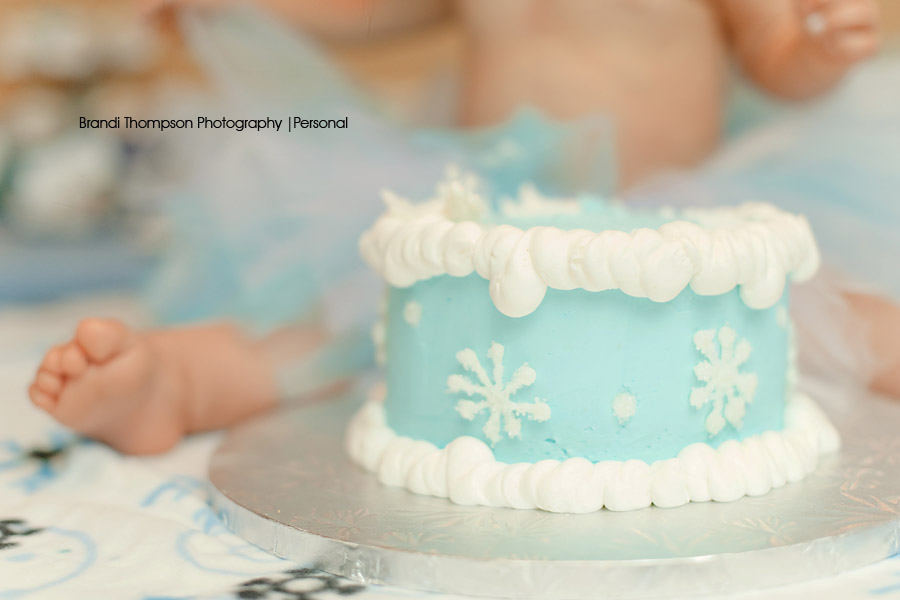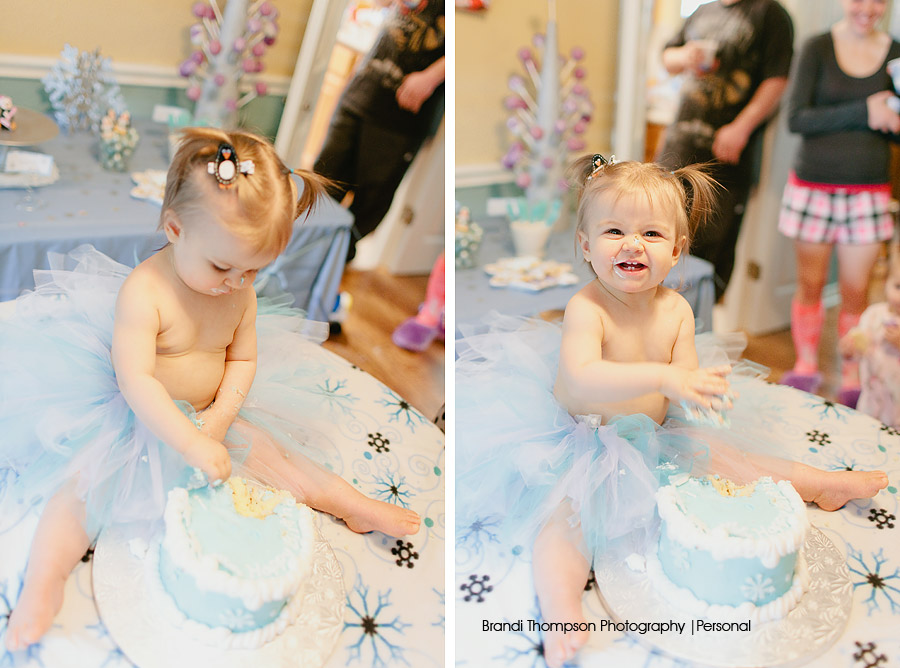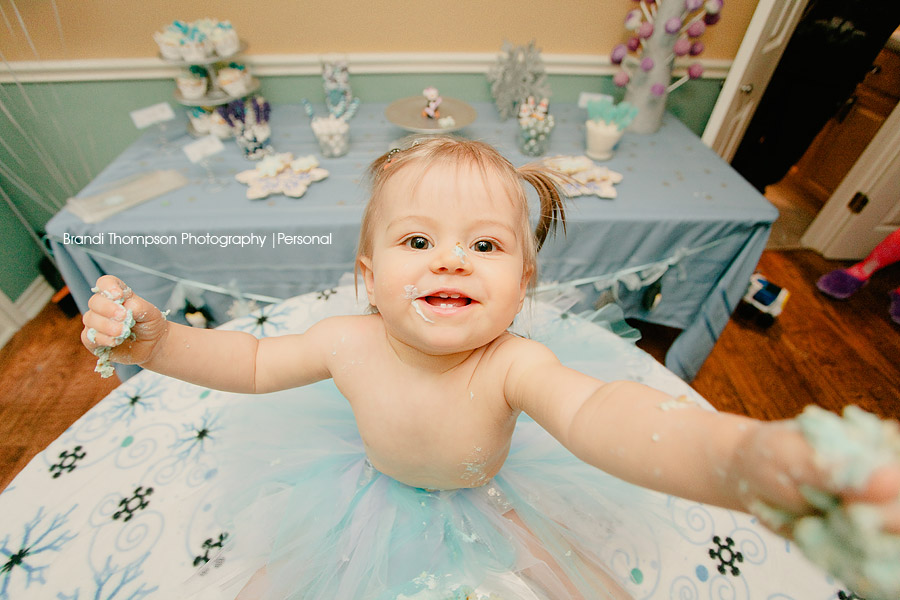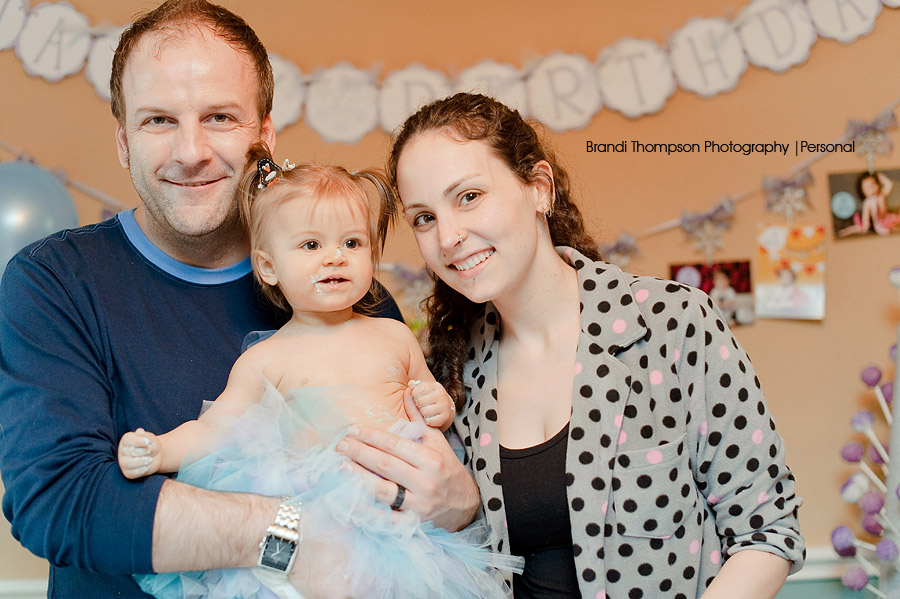 My happy little family.
It was a lot of fun planning this party, but I think I'll take it easy for the next couple of years. 🙂 Thanks for looking and happy Thursday everybody! I hope you have a great weekend.