Win FREE Wedding Photography for your Offbeat, Unique, Indie, Awesome wedding!!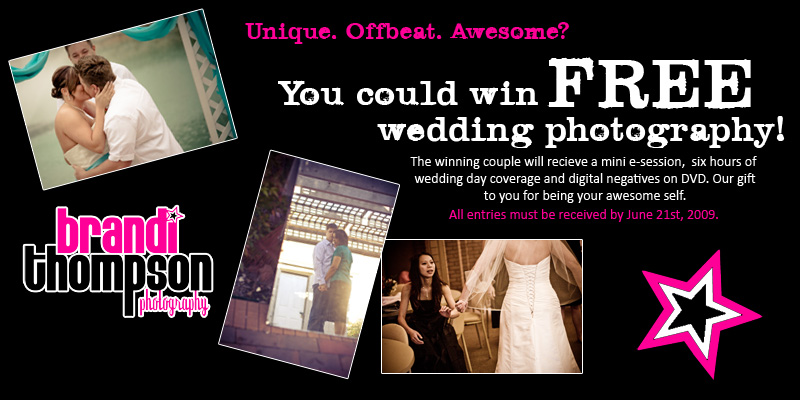 Free Wedding Photography?
Yes! Brandi Thompson Photography is giving away a FREE wedding photography package to one lucky offbeat couple in the Dallas/Fort Worth area*!
Are you an offbeat, indie, geeky, artsy, or otherwise uniquely awesome couple planning a rockstar wedding between September 2009 and March 2010? You could win FREE wedding photography from Brandi Thompson Photography! We are looking for your story and want to know what makes you different than the rest of the crowd. The winner will win an engagement session, six hours of wedding day coverage, and their wedding photos on DVD, all as a gift from us to you, just for being so darn awesome! Plus, all of the runner-up couples who submit qualifying entries get 10% off the wedding photography package of their choice. That way, everybody wins something, because, that's how we like to roll!
To get all the juicy details, click here to view a PDF! If for any reason you are unable to view PDFs, please shoot an email over to brandi@brandithompsonphotography.com and we'll respond with all the info.
We want to give a big shout out to fellow photographers who have run similar contests for offbeat brides. The fabulous Lara Swanson in the DC area (she's super sweet!), awesome Anne Ruthmann in the Boston area and Blink Photography, also in the DC area.
*Weddings can take place up to 250 miles from the DFW area. Any weddings outside of this area will incur a $250 travel fee.