Win a FREE MINI SESSION – Plano Baby and Family Photographer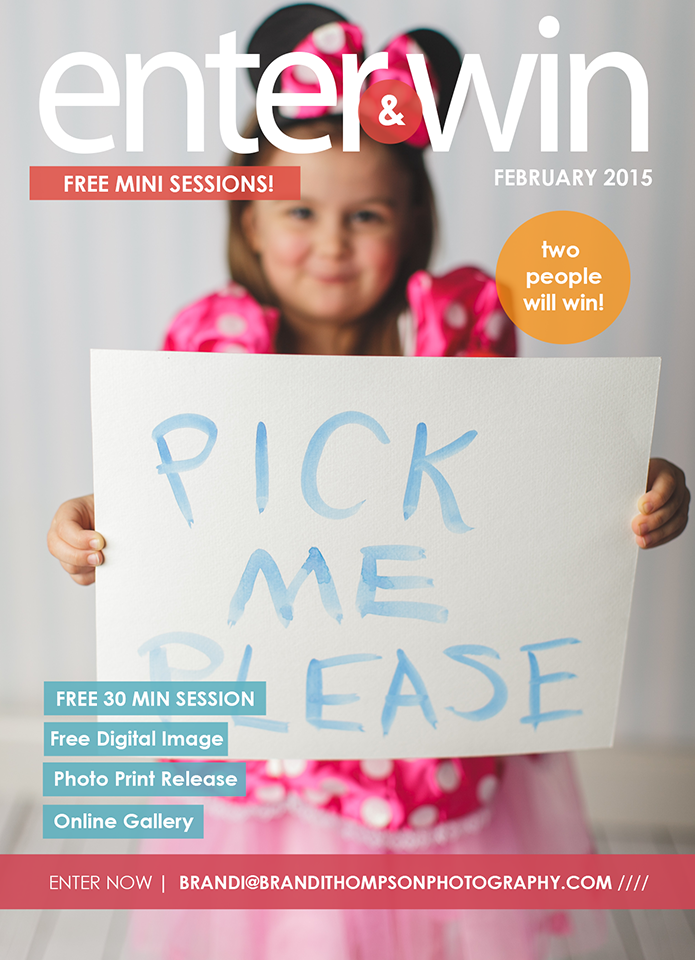 Are you a fan of Brandi Thompson Photography? Two lucky fans will win a FREE mini session – either studio OR on location* with a free printable file of their choice. One winner will win via popular vote and the second will be judges choice! What will the judges be looking for? Anything that stands out from the crowd; creativity, humor, super cuteness, or something else. Ready to enter? Here's what to do:
1. Create something that tells me why either you really want to win OR why Brandi Thompson Photography is your favorite photographer. Scrawl it across your hand with a pen, have your kids paint it on a piece of paper, or spell it out in raisins – as long as it's a physical representation – it counts!
2. Snap a photo of you (or your kids, your spouse, your dog, your cat, your pet rock collection) with your creation. Cell phone photos are okay, as long as we can read it!
3. Images must be emailed to brandi@brandithompsonphotography.com between the dates of February 3rd and February 7th before midnight.
4. Between the dates of February 9th and 13th, have your friends and family LIKE your image in the contest album on the BTP Facebook page for your chance to win via popular vote. The second winner will be chosen by myself (Brandi), as well as my co-judges from Elizabeth Frederick Photography and Kiwi Marie Photography, LLC.
5. Wait for the winners to be announced on February 16th, 2015!
______________________________________________________________
The Fine Print:
1. This contest is not sponsored or endorsed by Facebook or any of its affiliates.
2. All contest entries must be submitted BEFORE 11:59 PM, February 7th, 2015. No entries will be accepted after this time.
3. "Votes" (likes) may NOT be solicited via contest "like trades" sites, groups or pages. This will be considered cheating. Duplicate shell accounts created for the sake of voting will also be considered cheating. Anybody caught boosting "votes" on their image in these or other related methods will be automatically removed from the contest and banned from all future giveaways.
4. Winners must respond and claim their prize within 48 hours of being contacted or new winners will be chosen.
5. Winners may choose either a studio mini session (for children three and under) or an outdoor mini session. Outdoor sessions may occur at Haggard Park (E. Plano), Arbor Hills Nature Preserve (W. Plano), Watter's Creek (Allen) or Prairie Creek Park (Richardson). Mini sessions are up to 30 minutes in length and will include the winner's choice of one printable digital file with print release. Additional images will be available for purchase, but no purchase is required.
6. Winning mini sessions must occur prior to August 31st, 2015. Winner must schedule their session at least two weeks in advance – earlier is preferable. Any session not occurring before this date will be forfeit. Session value cannot be exchanged for any credits. Session may not be transferred to another party. All standard portrait contract clauses apply.