What to Wear: Maternity Bare Belly Outfits – Plano Maternity Photographer
People always ask for help with what to wear, and that's why I started sharing my What to Wear inspiration boards. But, I think I probably get more what to wear questions about maternity than anything else. It's totally understandable, because as a woman, you're dressing a body that's different to you; especially if it's your first child. Today I'm actually focusing specifically on what to wear to show off a bare bump! It might not be obvious at first, but there are a lot of fun options that you can wear.
The Top:
A lot of women go with a bandeau type top as the upper part of their outfit, because, well, it just works! But you can mix it up in a lot of ways. Go for a pretty lace bandeau instead of a solid one, or go for a bright color instead of a neutral. Adding layers can add a lot of dimension to your outfit, and it also adds a little more cover if you're feeling more modest. Instead of a classic white shirt, go for something sheer and soft, and roll up the sleeves, leaving the rest of the shirt unbuttoned. You can also add a cropped, open knit cardigan in a fun color.
I've included another option that I actually did myself. I'm a bit insecure about my upper arms, so I wore a cropped lightweight sweater the covered up the areas I didn't like, while showing off my belly. You can find crop tops in a variety of colors at American Apparel and Victoria's Secret.

The Bottom:
Jersey knit skirts are great bottom options. Skirts come in maxi length or knee length and a variety of colors and patterns. They sit comfortably under your belly and they're also great for that post-partum time as well. Target and Old Navy both have great selections on skirts. If you're more of a jeans kind of girl, and you want to wear jeans while showing off your bump – go for regular jeans and not maternity panel jeans. Just wear a lower rise jean with the button undone. It provides a much cleaner look than pushing down the maternity panel.
Accessorize:
Don't forget to add accessories to your outfit. Outside of jewelry, I love scarves in maternity photos. They can be used over a bandeau as a top, they can be tied around your hips for extra color or draped around your neck to frame your belly as well. Target has a huge selection of beautiful, affordable scarves.
I hope this has helped you start to imagine some possibilities for your maternity session wear. To help you visualize, I've included some photos below the inspiration board.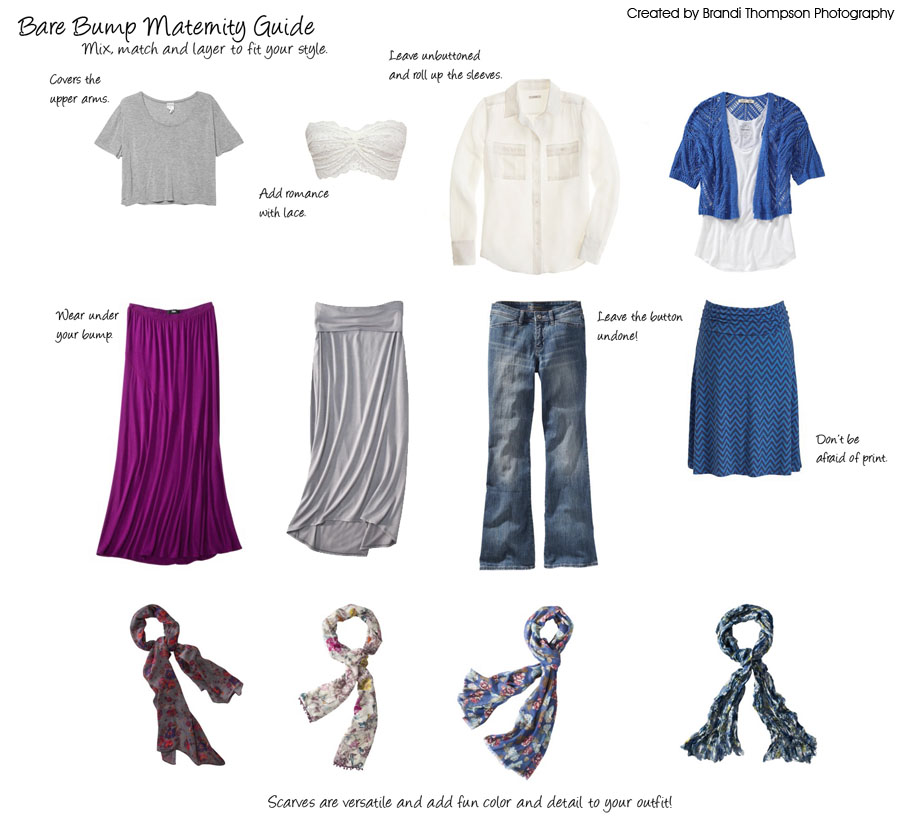 Questions about outfit ideas or a special What to Wear request? Reach me on Facebook!