What to Wear: Cozy & Luxe Winter Family Session Outfits
Brrr.. it's been cold lately! The best part about the cold is bundling up in cozy sweaters. For the last What to Wear board of 2013 I went for a family look that was cozy but luxe at the same time. The color palette is full of subdued hues in creams, grays and soft pink with gold added in for some holiday inspired sparkle. Gold is really on trend right now so you can find lots of options out there to add some pizazz to your outfit. Photo sessions do NOT have to be uniform like. Play with textures, pattern, shine, colors. You don't have to have the exact same grays; different shades can play well together!
See something that catches your eye? Check out the links below:
Mom: Sweater | Jeans | Boots | Necklace
Baby Sister: Dress | Sweater | Tights | Boots | Hat
Big Sister: Sweater | Tank | Pants | Shoes | Headband
Dad: Sweater | Pants | Shoes | Scarf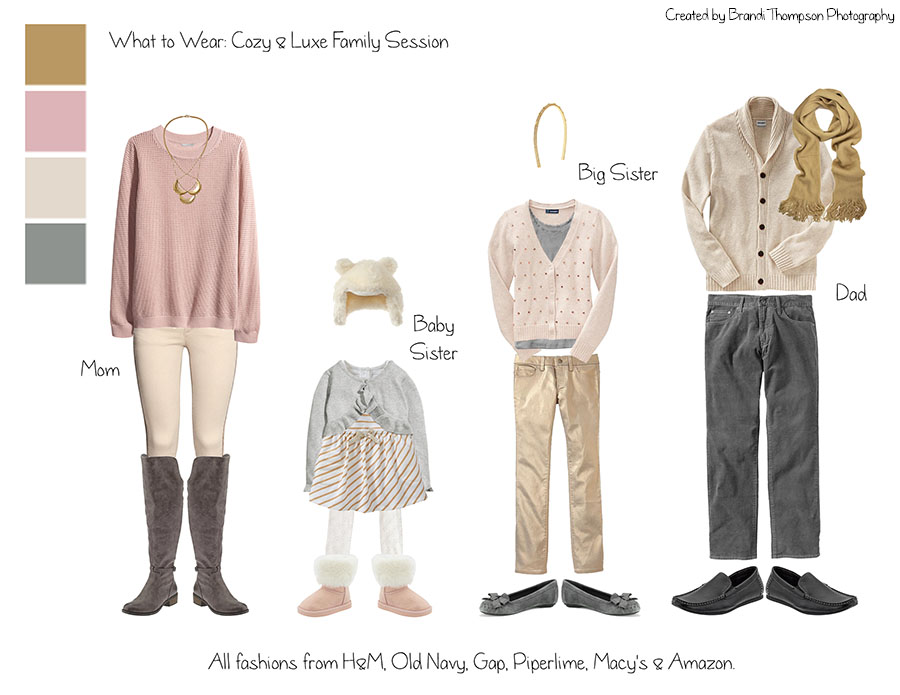 Next month (2014!!) I'm going to kick off the What to Wears with tips on how to assemble and preview your own family outfits, easily! So be sure to stay tuned. In the mean time, keep an eye on the blog for more great sessions from this fall.