Twenty-seven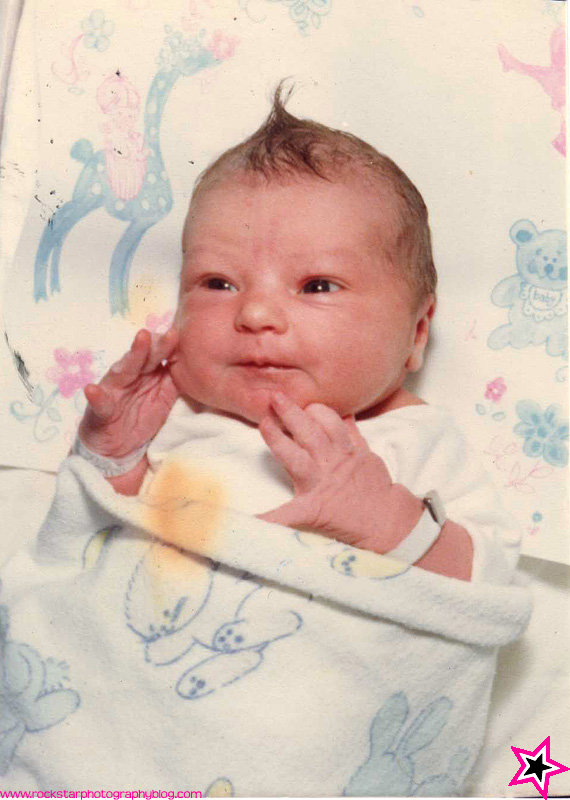 Me, twenty-seven years ago.
It's my birthday. The big…erm…kind of big, twenty-seven. Perhaps it just feels more monumental since we have such a big change looming on the horizon. I think it's going to be a good year for me.
In honor of my birthday, I have come up with a list of random, and not so random, things I am thankful for. Twenty-seven of them, in fact.
1. A wonderful husband.
2. Our upcoming baby girl.
3. All my family – both those I was born into and those I married into.
4. My friends, including people who knew me when I was a teenager and still like me!
5. Having the coolest job on the planet.
6. Having the coolest, most creative, honest, open, gorgeous, amazing clients on the planet!
7. Learning how to overcome obstacles in my life.
8. Snow cones.
9. Karaoke.
10. Furry cats who lay in your lap for hours at a time.
11. Finally getting some rain.
12. A closet full of shoes.
13. Morningstar Farms Veggie Bacon (I'm addicted).
14. Accepting myself for who I am, while still working to improve the little things.
15. Being tall.
16. The Dish with Danielle Fishel. I can be amused by trashy shows without having to watch them.
17. Social networking; boy do I love it.
18. Our amazing trip to France.
19. Lip balm.
20. 80s music. Especially Depeche Mode.
21. Cute baby clothes. My eyes have been opened!
22. Reruns of CSI, Bones and my other favorite who-dun-it shows.
23. Fall (cooler weather, brown leaves, holidays!).
24. Excel spreadsheets.
25. Lightroom.. How did anyone manage without it?
26. Eyebrow threading – it's awesome.
27. Loving and being loved!
Have a wonderful Wednesday all!