Things you never expect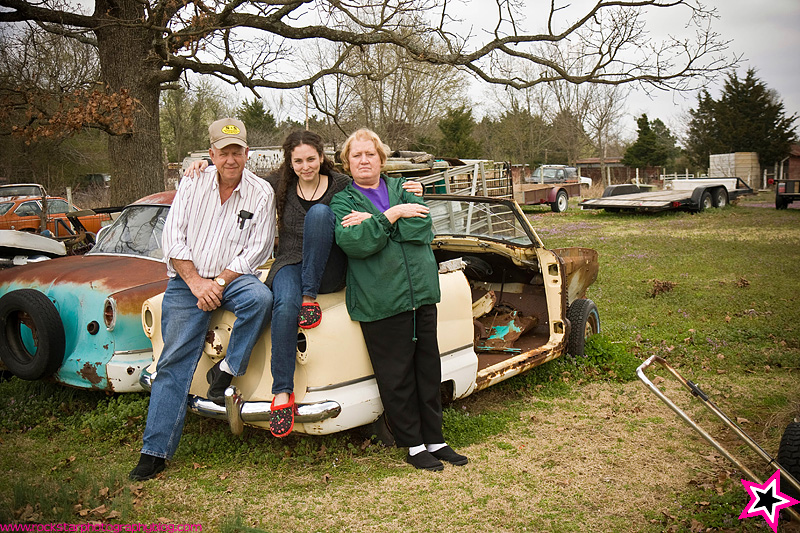 Grandpa, Me, and Grandma in March of 2009. I had to beg to get them in a picture.
It was already a long, trying week with a slew of what are now seemingly petty things. Wednesday night, myself, Brian and my father were sitting around watching TV when he got a phone call from my sister in law Amber, who said that my Grandma had stopped breathing and they were on the way to the hospital. There were no other details than that. We kept waiting for details, but we really didn't hear much more for the rest of the night. Thursday morning, he woke me up with a knock on the bedroom door. He said that his brother called and said my Grandma wasn't going to make it. It was like being kicked in the gut. The whole thing was a big shock. My Grandpa had been the one who had been sick. He's been suffering with an illness for a while now, and had some pretty bad times. Grandma has always been the one who took care of him. There has never been a peep about her having any problems. They revolve around one another.
I canceled all meetings I had Thursday and Friday. I called Brian and told him what was going on. He somehow miraculously managed to get away from work and said he'd come to Arkansas as well. I made arrangements with my wonderful sister in law Stephanie to watch Dante and I threw some stuff in a bag. I cried. We hit the road and we got to Russellville around 5:30 or so. After checking in at my brother's house, we headed over to the hospital.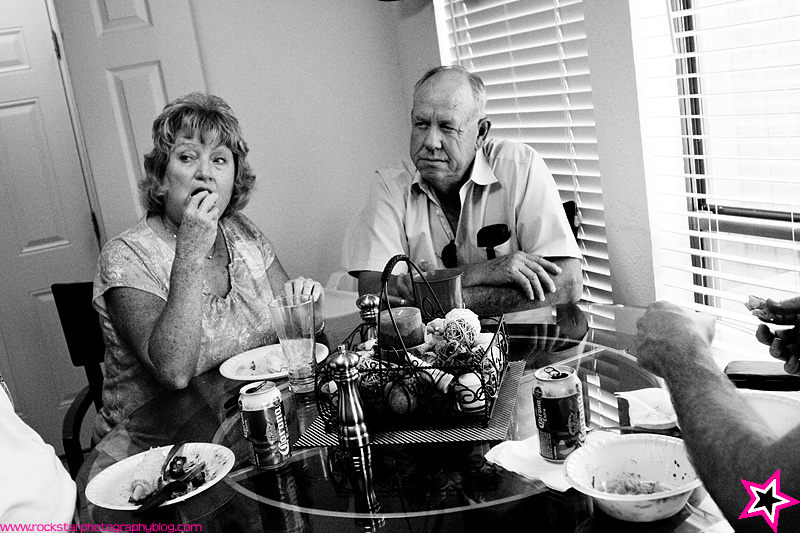 Fourth of July 2009 at Brian's parents house, while my Dad was on leave. This time I used my sneaky ninja photographer skills.
I think all hospitals pretty much feel the same. The floors squeak and various smells linger in the air. It seemed a little surreal to see her there. She has always been so full of life and laughter. Although it hurts deeply to see her, perhaps what hurt the most was to see my Grandpa. I can't even repeat the things he said, because it hurts me to do so. I cried for his pain.
Right now, they still don't know what exactly caused the issue. They suspect it was a blood clot. She stopped breathing, and wasn't getting any oxygen for around fifteen minutes. She cannot breathe on her own, and she's currently in a coma. Things actually are slightly better than we expected. The rest of her body functions, like her heart and her kidneys, are working fine. Her color looks good. But, they are unsure of exactly how much brain damage she has. They know she has some brain activity, but will hopefully know more on Monday when they run another ct scan. Right now it's all just hovering in the air. The doctor said things are heavily stacked against her. I am just waiting for a phone call.
The only beam of light in an otherwise dismal week is that I finally, after seven months, got to meet my niece Leora. You might remember that I was up in Washington state for a week, hoping to be there when she was born. My brother just moved down to Arkansas recently. We didn't have any time for real portraits but I did snap a few snapshots of her.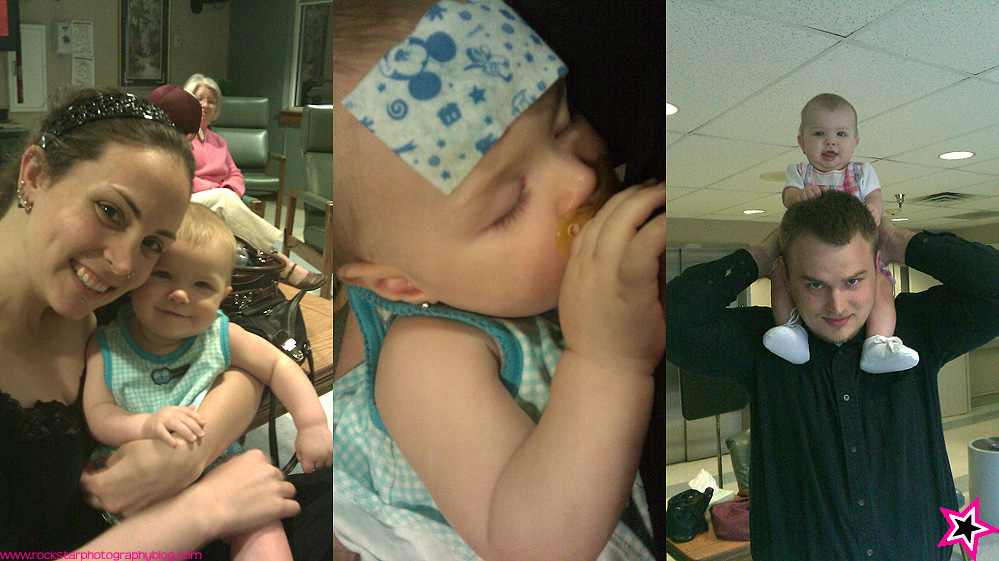 Some cell phone pictures. Me with Leora, Leora asleep in my arms, and Robert with Leora.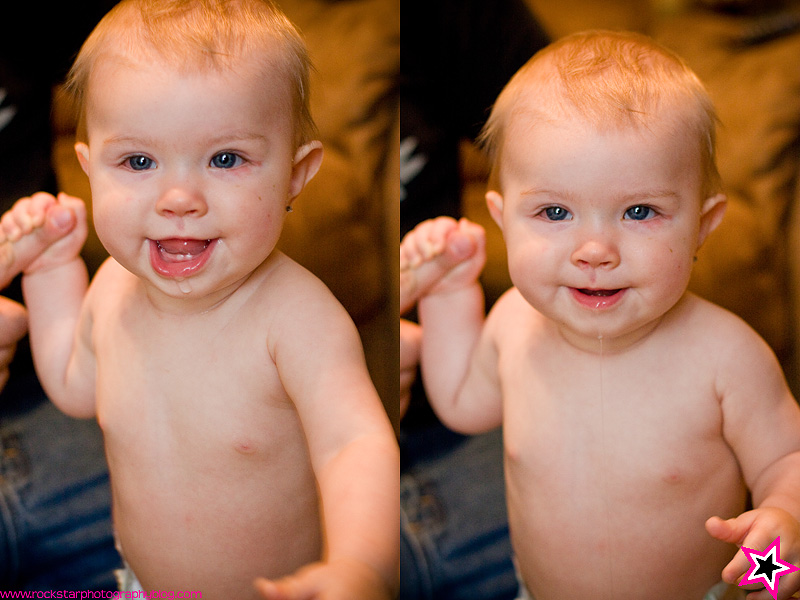 Some late night snapshots. Poor baby has been sick, hence the red eyes.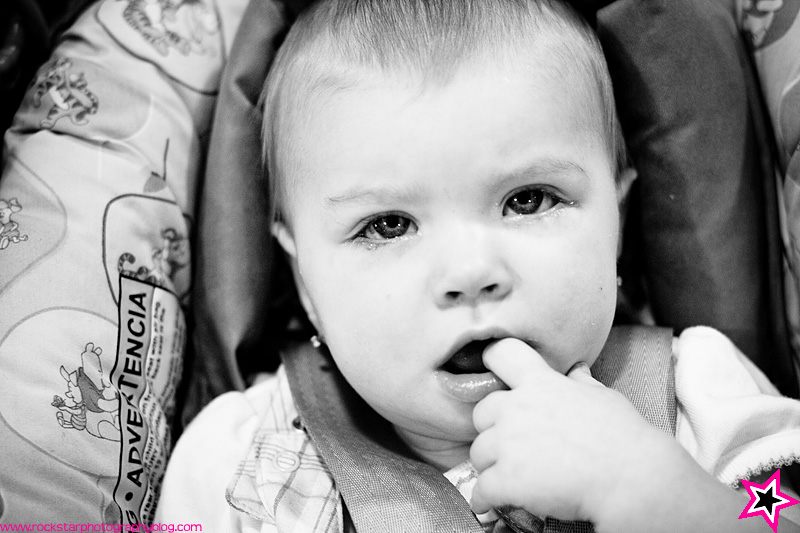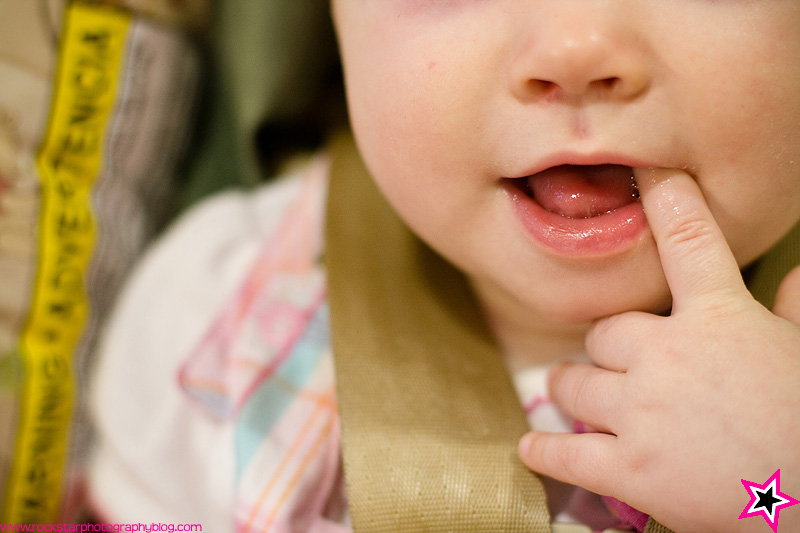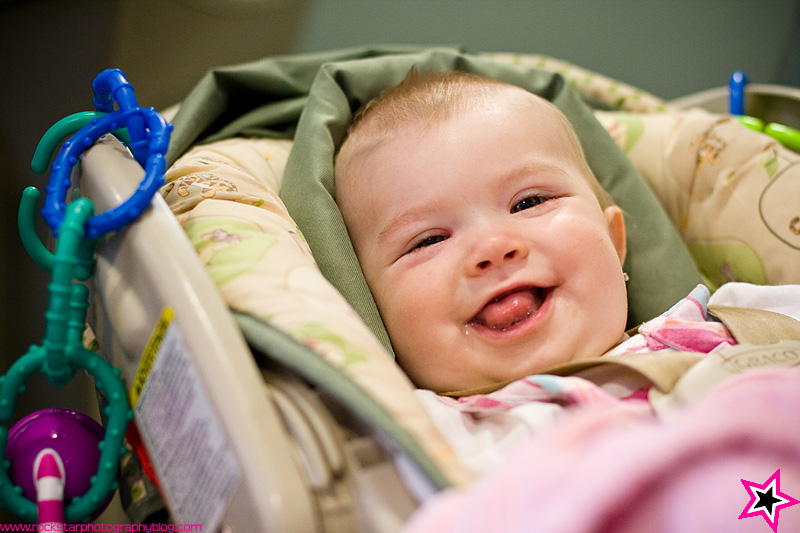 Such a happy girl.

Thanks to all my friends on Twitter who have sent their well wishes to my family. Please continue to keep them in your thoughts. Thank you!