Modern Holiday Family What to Wear – Plano Family Photographer
Ah, it's mid October! The holiday months always fly by so quickly, because there is just so much fun stuff to do. I'm definitely enjoying every minute of the fall and Halloween activities, but you've got to plan ahead for the rest of the holidays as well. I wanted to give you some ideas for a modern, but still festive, holiday color scheme for your family photos. I love the gold, cream and pink combo. It's fun, but it's still soft and neutral. I added lots of sparkle, because the holidays just call for sparkle in my opinion! I also included a lot of texture. When you're using softer colors, don't be afraid to really layer on the texture to add visual interest to your photos.
Dad: Shirt | Sweater | Pants | Shoes
Girl #1: Pants | Sweater | Boots | Scarf | Bow
Girl #2: Dress | Vest | Belt | Tights | Shoes | Hat
Mom: Dress | Belt | Necklace | Belt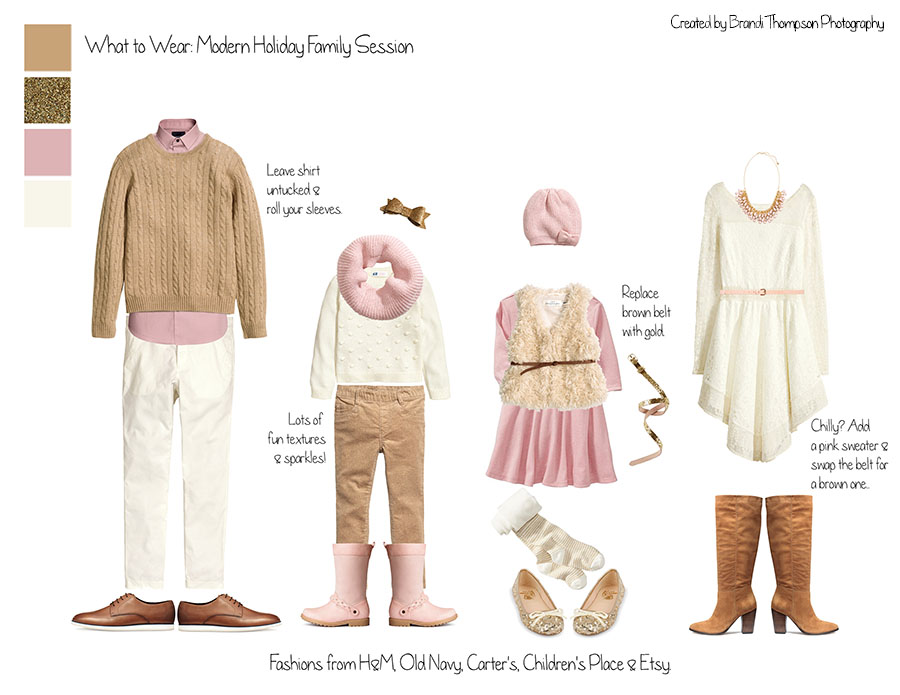 Thanks for stopping by! Don't forget, I still have a couple of fall mini sessions open for October 24th/25th! Grab your spots now.