First Birthday What to Wear for Spring and Summer – Plano Baby Photographer
One year olds are some of my favorite subjects to photograph! They all have such different personalities, and they're always honest. I decided to create a light and fresh one year old inspired What to Wear board for you. I've got fun outfits for regular portraits and some messy cake smash fun.
Be sure to check Etsy for lots of custom headband or clips options to make your outfit really unique. I also have a large selection of pettiskirts and tutus already on hand, so if you have a color in mind, just ask me.
To buy any of the pieces listed below, please check out the following links:
Girl's Outfits: Dress | Shoes | White Clip | Pettiskirt | Pink Headband
Diaper Covers: Available here! – There are also a large number of other cloth diaper vendors out there that can create custom covers or diapers for you. If you are interested in learning more, feel free to email me.
Boy's Outfits: Shirt | White Shorts | Hat | Shoes | Brown Shorts | Suspenders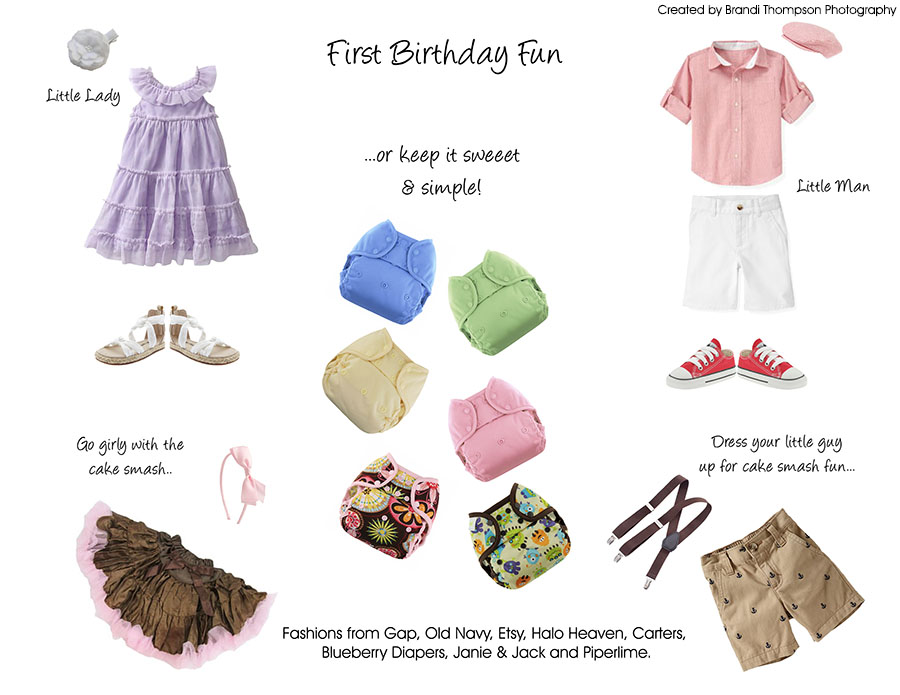 When it comes to cake – lighter colors are better. Arrange a custom design ahead of time with one of your favorite local bakeries for a one of a kind look.
I will have more What to Wear boards coming up SOON (catching up…oops!) so be sure to check back.