Christmas spirit in 80 degrees.
My Christmas enthusiasm has been pretty off this year. I think a large part of it is that I am so focused on babybabybaby that I haven't had much brain power left to dedicate to the holidays. Despite all the good things about the holidays, it's easy (especially right now, I won't lie) to become cranky with all the hustle and bustle that's going on.
Things that make me merry..
Being with my family! On Sunday my Mother and brother #3 arrived from Idaho to stay the week with us. On Christmas Eve, I have promises that brothers #1 and #2 will be arriving to stay the night. It has been a good ten years since I have spent a Christmas with all three of my siblings at one time. I can't begin to tell you how happy it makes me.
Christmas cards. Getting Christmas cards in the mail always makes me feel warm and loved. They are proudly displayed on the mantle.
Seeing good deeds. Yesterday, I had to stop at the Post Office. Yuck, right? Normally I just fly through the wonderful Automated Postal Center, but to my dismay the line for the APC was just as long as the one for the counter! I got in line and I heard the guy in front of me saying he was standing in the ridiculous line for ONE stamp. Well, when the guy in front of him finally got to the machine, he turned around and said that he had just bought the last of the stamps, but he pulled one off and gave it to the poor one-stamp guy and told him Merry Christmas. Just witnessing the kindness of someone else helped take the edge off of having to stand in line.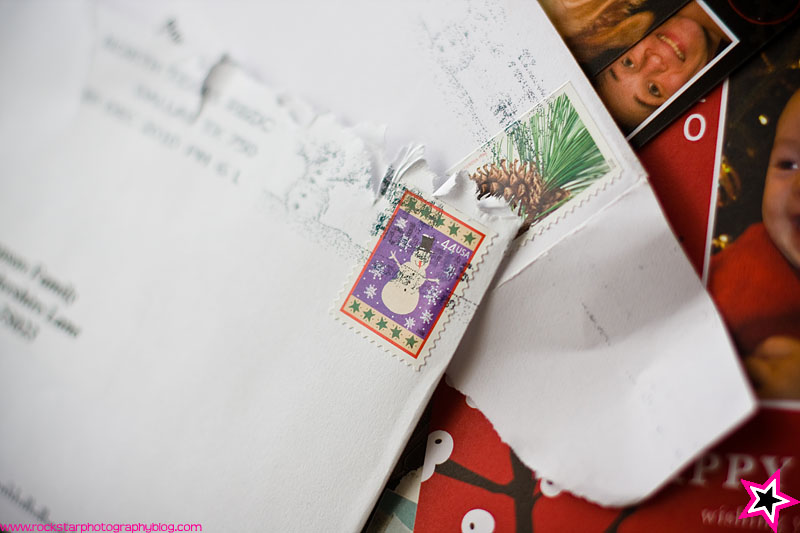 Things that make me scrooge-y..
This ridiculous weather. It's almost 80 degrees outside. Weather.com claims it will be a chilly 40-something on Christmas, but I'll believe it when I see it.
Rude people. People who cut in front of you, let the door slam in your face, ignore you when you are clearly looking around a store in confusion. Rude!
You know, I am sure I could easily come up with more things that zap my holiday spirit, but I don't want to dwell on it. Instead, I will choose to dwell on the things that make me happy. I encourage you to do the same. 🙂