The Almost Perfect DIY Wedding! (Or, In Defense of DIY Brides Everywhere!)
I don't see myself like a lot of other wedding vendors. Often, I feel like I connect more with brides than I do other vendors. The most common cause of this feeling is witnessing vendors spew venom about "DIY Brides". Hey, wait a red hot second. I was a DIY bride, and proud of it. To me, DIY does not automatically equate 'cheap and crappy'. To me, DIY says talent, time and personal touches. I love DIY brides!*
Note: It's not all vendors who are negative toward DIY brides, many other vendors also appreciate your hard work!
To show my love and appreciation of the awesomeness that is DIY, I wanted to share some tips on achieving DIY peace and happiness.
First, I think it's important to stick to things you know, or have at least some experience in. We all have different skills. The important thing to remember is that nobody can do everything. If you're an awesome graphic designer, like Kristin, it won't be any problem for you to design your programs or other wedding stationary. Amanda is a baking queen, so she baked some delicious cakes for the groom's cake. I have been sewing since I was a little girl, and I whipped up my own custom birdcage veil just the way I wanted it. Sticking to things you know isn't only about the quality of the finished product; it's about the time it will take to do it. When you take a time consuming, tedious task and add a learning curve to it…you could be asking for trouble!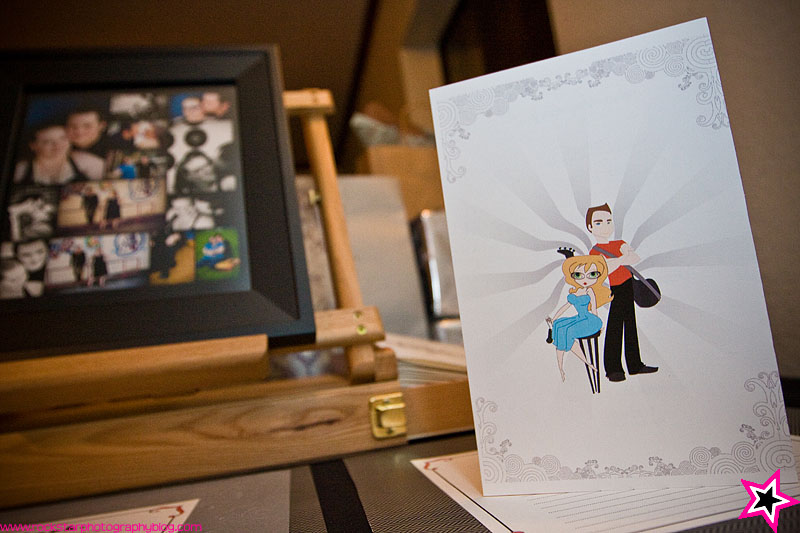 Kristin designed these adorable graphic likenesses of Jono and herself. So cute.
Speaking of time… be honest about the time each project will take to complete. I suggest that if you think something will take an hour to complete, dedicate two hours in your schedule to do it. You think you can get 100 beautiful hand cut program fans assembled in just a couple of hours? I am telling you from experience, you are looking at more like six to seven hours (and that's with a couple of crafty ladies!).
When brainstorming up DIY ideas, consider limiting the number of projects you decide to tackle. This comes back to what I said about not being able to do everything. You do not want to be struggling to finish something the day before, or even the day of the wedding. While I don't subscribe to the whole 'The Biggest Day of Your Life' school of thought, I do think that you and your groom deserve some down time before what is a very special moment. Having a half finished DIY project hanging over your head forces one of several scenarios:
– Stressed out bride and groom, who already have enough going on with the whole 'getting married' thing!
– Projects thrust upon possibly confused members of the bridal party or your family.
– Abandoned projects; which is always a bummer, especially if you've already sunk several hours of work and money into it.
Remember that all of your projects may not be worth the time. Although I thought my hard earned program fans were beautiful… I still have a stack of them lying in a closet somewhere. Realistically, the hard work was probably not worth the reward.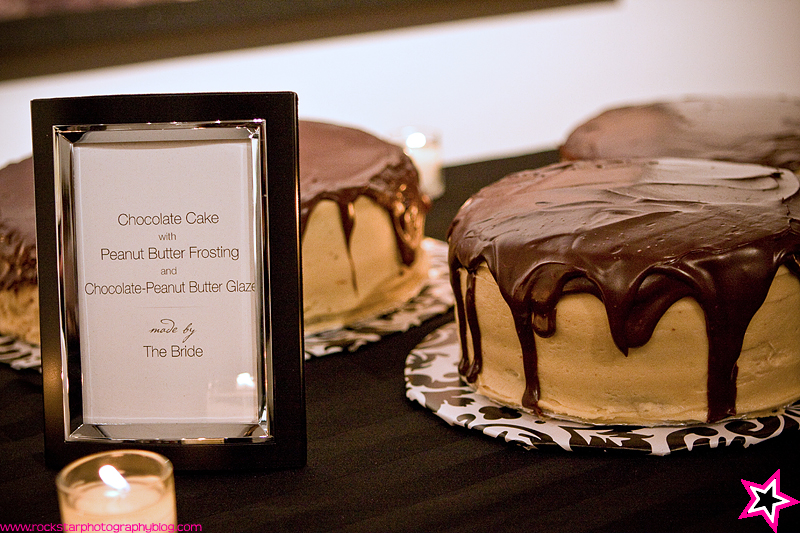 The smell of Amanda's cakes were making everybody salivate long before they were served!
When it comes to those beloved friends and family, remember that they will not always be able (or perhaps willing) to help you complete your DIY tasks. You should never make your time estimates based on the assumption that you will have four sets of hands helping you out. Life will often get in the way of the best laid plans. It may end up being you, your wonderful, patient, pregnant (almost) sister in law and four of your favorite movies.
Once you have your list of awesome DIY projects ready to go, there is one thing that isn't DIY that I do suggest. Hire a wedding planner! This is one thing that Brian and I both agree we wish we had done. Even if you don't elect to have a planner through your entire process, having somebody there the day of will help everything run smoothly.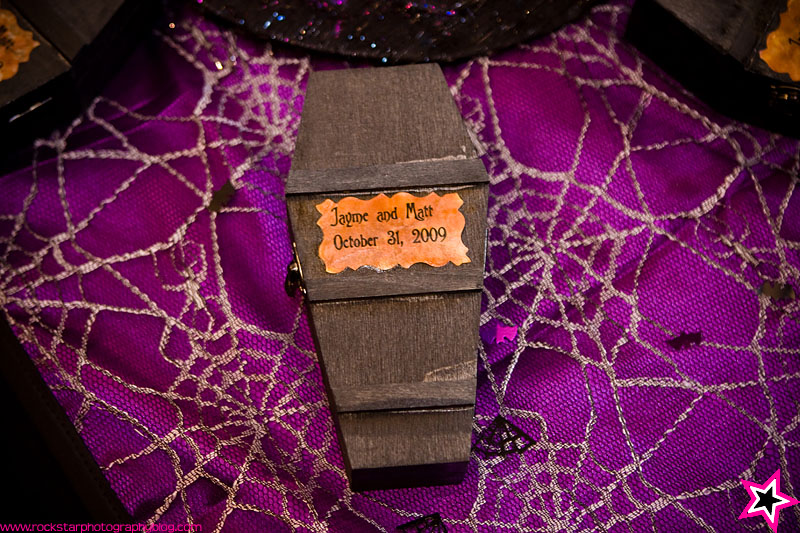 Matt and Jayme spent many hours decorating (and lining) each individual favor coffin for their Halloween wedding (among many other DIY tasks!).
For me, the DIY wasn't just about cost. While we were on a smaller sized budget; a lot of my desire to DIY came from the fact I have always been a creative person (and a bit of a control freak). I enjoyed the majority of my DIY tasks, even the tedious ones. Make sure that you don't overwhelm yourself to the point that you hate what you're doing. It's just not worth it. Remember that in the end, the day is about declaring your love for that one special person, and celebrating that with your family and friends.
Happy DIYing, my friends.