What to Wear at your Photography Session and Feel Good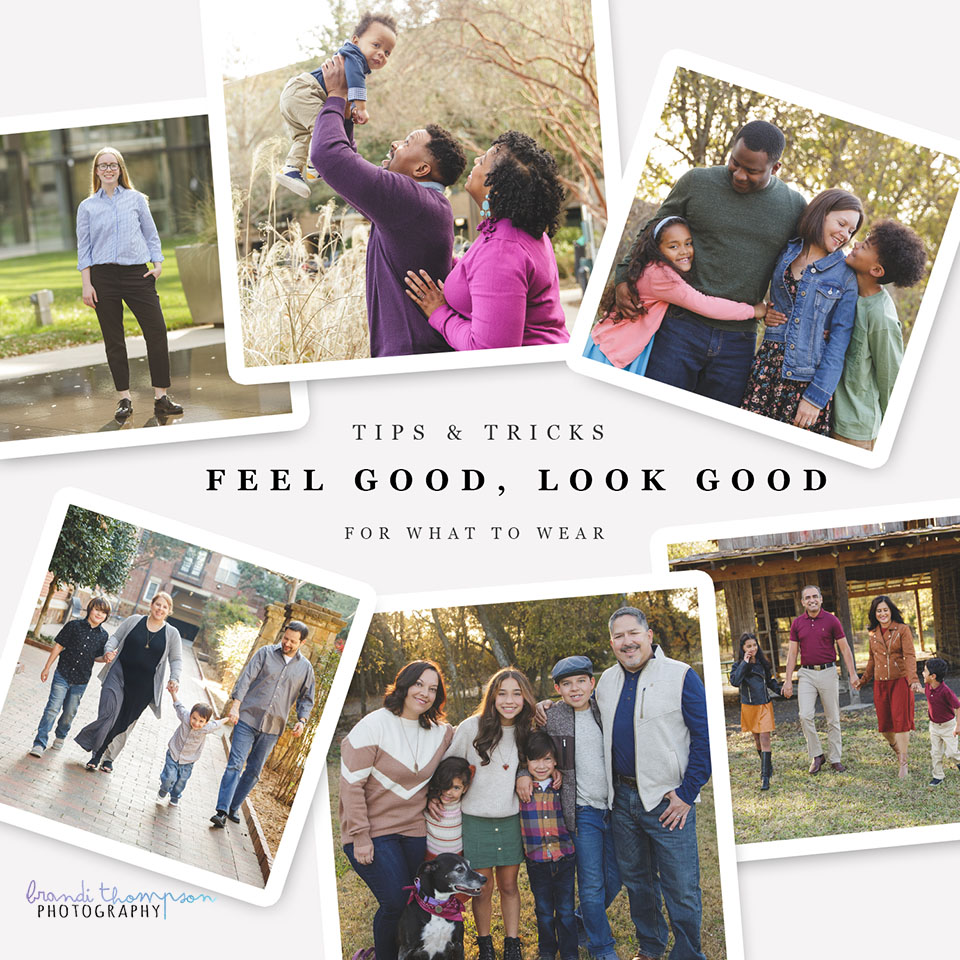 In a perfect world, we'd all feel comfortable in our bodies—in their beautiful array of shapes, colors, and uniqueness.
But we don't live in a perfect world, and everyone has their own level of comfort with their personal appearance. Sometimes it can feel hard to look at yourself in photographs—I speak from first hand experience on that one!
Even if I think you're amazing just the way you are, it doesn't erase your own feelings about your body. What I can do is give you some tips on how to best celebrate who you are, and increase your comfort level with your finished photos.
Let's talk about ways to feel more confident preparing outfits for your photography session!
First, give yourself time to find an outfit and try it on well before your session.
I know life is hectic, but it's worth it to carve out a few minutes for an outfit test run before the day of your session. As soon as you book your session, put a calendar entry down to do a full outfit check a week ahead of time!
Here's what to ask yourself when choosing an outfit:
Can you move in it? Sit down, stand up, squat, and lift your arms all the way up. Are you constantly having to re-adjust the clothing? Are you comfortable with the way your body looks, both in motion and sitting down? Remember that sessions won't be super-posed experiences, especially with kids involved.
What about your underwear? Is it fully covered to your satisfaction, or is it visible from certain angles? Check for bra straps when you're moving, as well!
Are your shoes comfortable to walk and move in? If not, make sure to bring a pair of easy-on shoes for walking longer distances.
Don't forget about socks. For best results, either look for low/no-show socks. For dressier shoes, traditional wisdom is to match your socks to your pants—but if you want to throw on some wild socks, go for it! Just remember to keep those details in mind.
Accessories: Will you be wearing your smartwatch during your session? If so, I suggest you put it in movie mode to prevent details on the watch face. If you have Transitions glasses, I suggest bringing another pair with non-changing lenses or taking photos with your glasses off.
When it comes to the day of your session, please feel free to tell me ahead of time about anything you might feel less secure about, so I can help keep an eye out for you.
We all view ourselves differently than others view us. While I might have a list of things to look out for, your list might be different.
I always encourage open and honest conversation, and I'm here to support you in feeling your best and loving your finished photos. Remember, you're always welcome to text or email me with your outfit ideas and questions!
A big thank you to Melissa from Em Gee Ink for her help in editing this post for me. If you need copywriting or editing help for your webpage, Melissa is incredibly talented and kind.