Meet Sara: The World's Best Frientern
In recent posts, you may have noticed me mentioning a mysterious 'frientern', Sara. Well, today she is no longer a mystery!
I call Sara the 'frientern' because she's more than just an intern; she's also an excellent friend. We haven't actually been friends for that long, but it feels like we've known each other for years (in the good way!). I think that the story of how we met is a pretty darned interesting one, so I've decided to share it with you all!
There is a particular website that Sara and I both enjoy spending copious amounts of time on. Earlier this year we began to interact with one another on this website here and there, and seemed to find each other equally amusing. We shared lots of similar interests – like a love of photography and Wil Wheaton. Then I realized that she was friends (at least, online) with somebody else I knew, and I said – hey, small world! I had no clue how small it actually was.
I was just browsing the website one day and I came across Sara's full name – and although it took me half a second, I recognized pretty quickly that I actually knew her 'in real life'. She was the secretary for the department I was in at school! Around the same time, she actually figured out who I was, and we both had the same reaction. One of those… oooooooooohhhhhhhh… that's kind of weird, and potentially awkward. It was a bit weird for me, because I usually made it a point not to interact with people from school on the outside. It was weird for Sara because she was not supposed to interact with any students outside of school. After some discussion, we decided that we simply could not pass up the opportunity to share awesomeness with one another, but we'd keep it to the realm of the internet.
The story obviously doesn't end there, as here we are, interacting with one another in person. The twist to the story is this – Sara's adorable husband Troy (who I WILL have pictures of at some point, so please don't think you can escape me, Troy) had just got a sweet new job that was a considerable distance from their then-residence, and Sara's job as secretary at my (former) school. Sara ended up leaving her job as secretary at the end of the semester (she's polite and conscientious like that) and moving a lot closer to… ME! Yeah, awesome! So, after she was stripped of her obligation to ignore me in real life, we began to enjoy our mutual awesomeness in person. We were both happy to see that it wasn't a fluke of the internet, and we actually DO get along like two peas in a pod.
Alright. If you've made it THIS far, I'm pretty darn impressed. Long story short(er), after some discussion, it was decided that Sara would become my intern (frientern) so that I could get a helping hand (which I really needed) and she could learn more about photography. I am constantly impressed by Sara's natural eye, and her passion and enthusiasm for this art. Plus, she can fold a 42" reflector in 1.5 seconds flat, and if you've ever tried to fold a 42" reflector… you know exactly how impressive that is.
Okay! Enough with all this chatter, let's see some PICTURES!
Stuff that makes Sara awesome..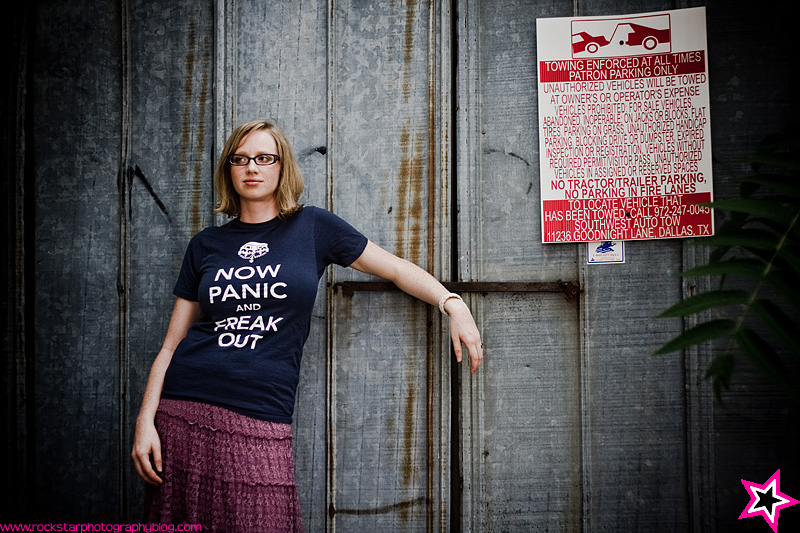 Natural posing abilities.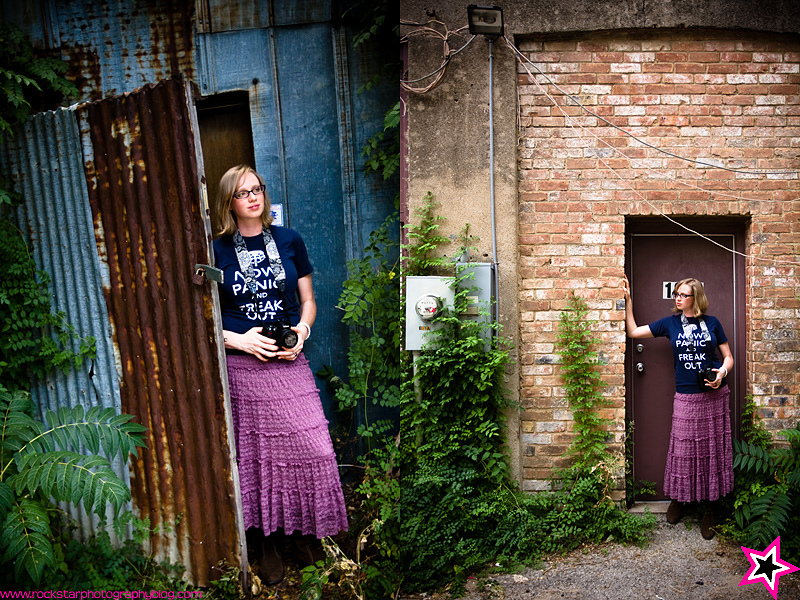 Her appreciation of old buildings.

She's cute.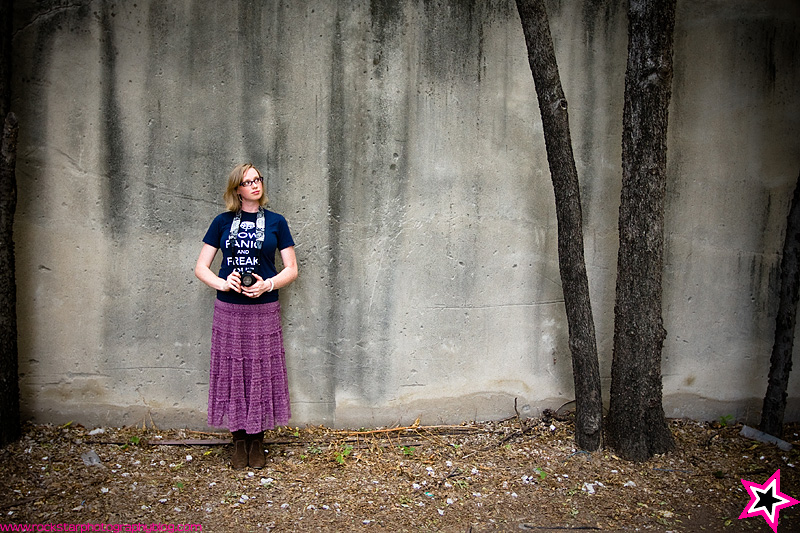 She wears cool purple skirts.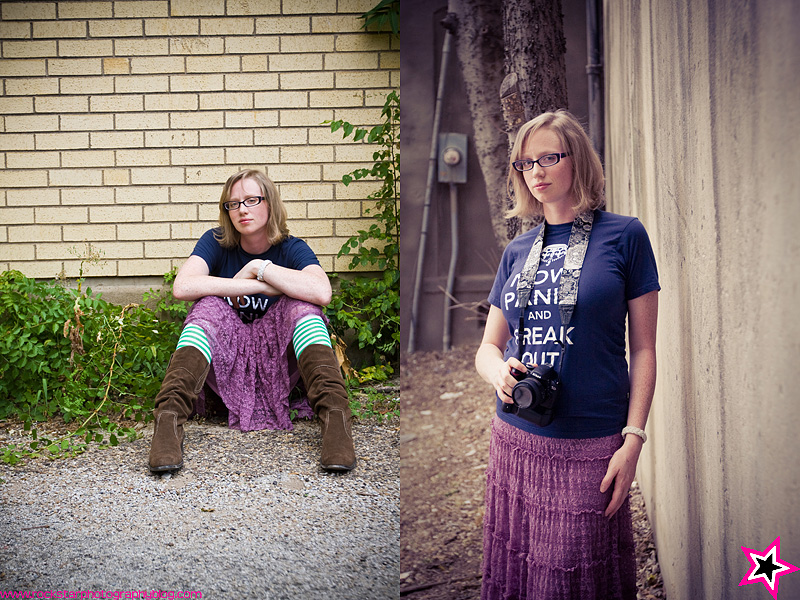 She's not afraid of getting dirty.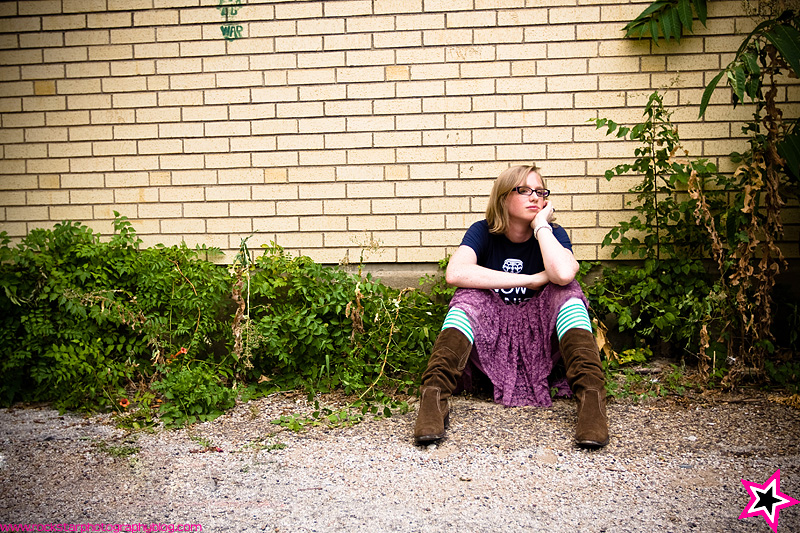 She's pretty (on top of the whole cute thing).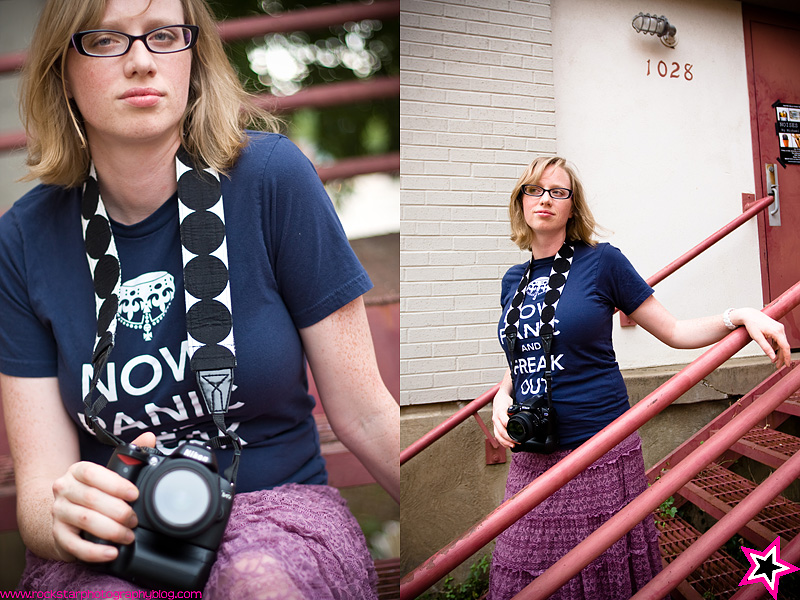 Good taste in camera straps.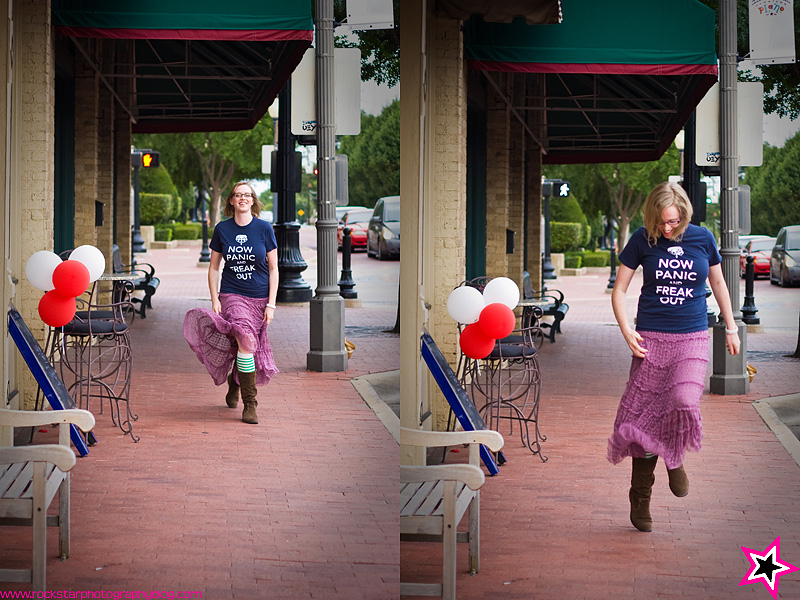 When I ask her to twirl and skip down a sidewalk in front of a steady stream of onlookers, she doesn't think twice.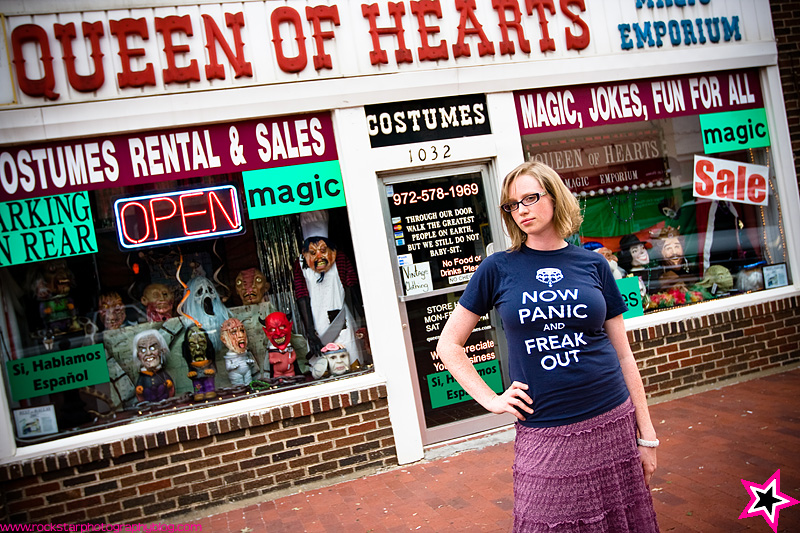 Magic stores make her happy.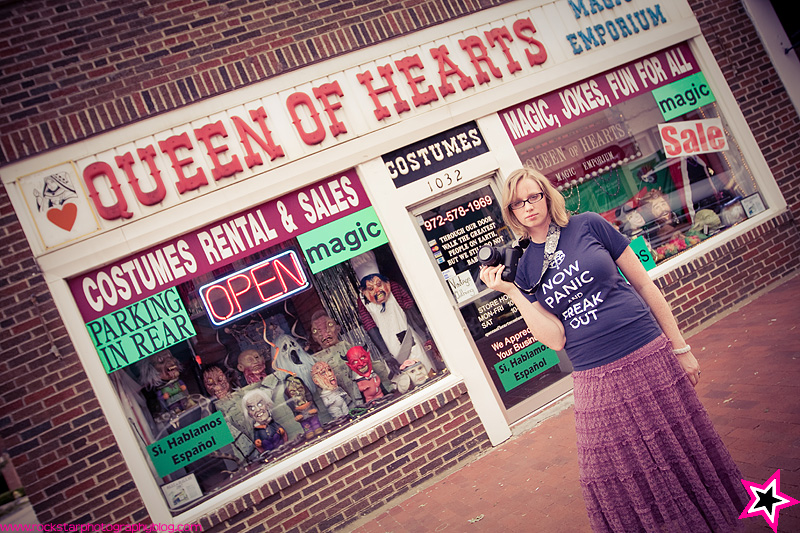 She knows how to work it.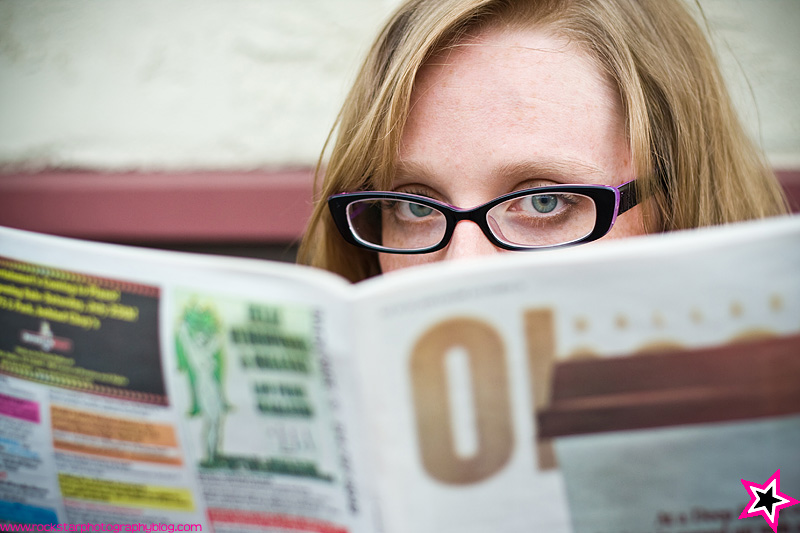 Radtastic taste in glasses, obviously.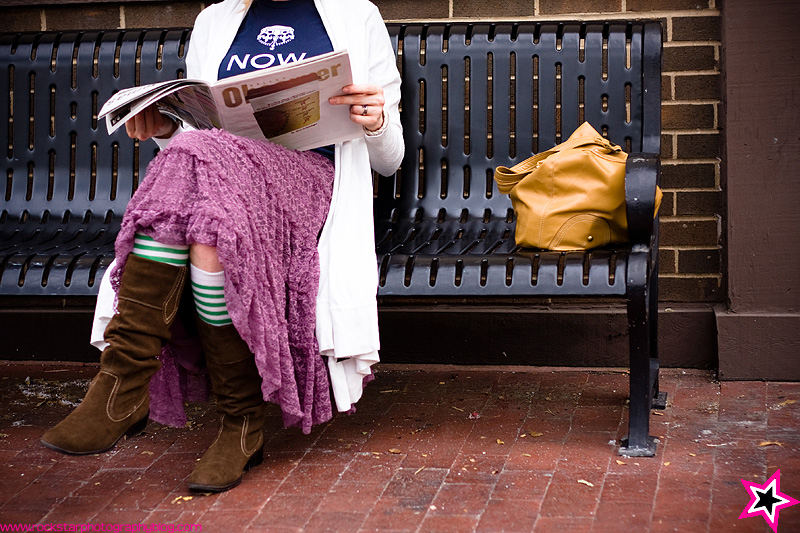 Striped knee high socks.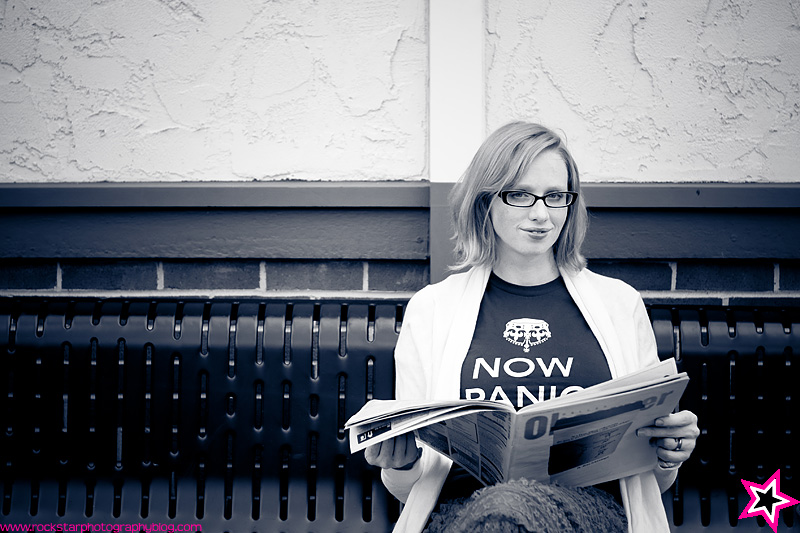 Wearing a sweater in the middle of July.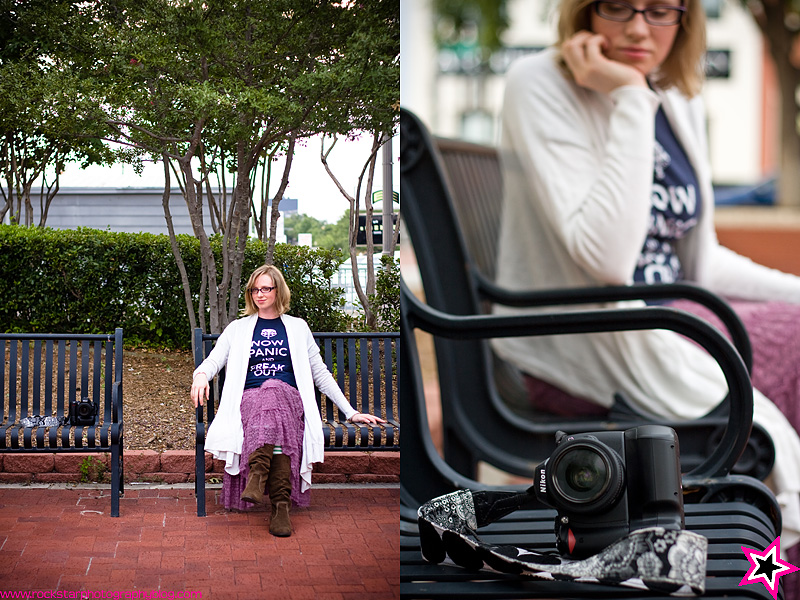 She doesn't think my ideas are weird.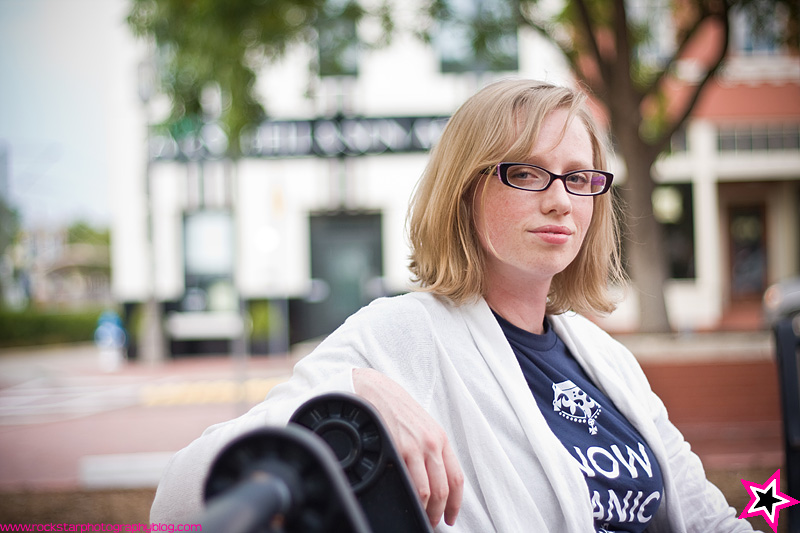 Do I even have to say anything here? 🙂

You might notice that Sara shoots with a Nikon. You probably know that I shoot with a… Canon! It's okay though, because I've decided Sara is cool enough in other ways to make up for her wrong decision.*
*I kid! I kid! I give Nikon mad props, I just find it hilarious to pretend I am a Canon elitist.